The Wrath are a Khorne Daemonkin warband that bring butchery to an unimaginable scale. Even in such murderous haunts as Commorragh and the Eye of Terror, these Daemonkin are whispered of with awe. Ferocious beyond the bounds of sanity, The Wrath are little more than beasts in Power Armour.
Warband History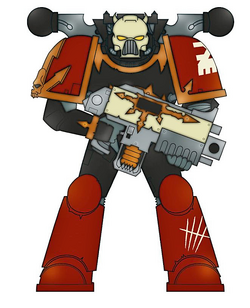 The Wrath are a warband infamous for utter brutality. Slaughter is not enough for these feral warriors. At battle's end, the warriors of The Wrath fall upon the corpses of the slain, cannibalising friend and foe alike in a hideous victory feast. Skin is peeled, then hacked into ragged cloaks and face masks that are draped across The Wrath's armour. Bones are ripped free and pushed through the warriors' skin as crude totems. Blood is guzzled and organs crushed to a foul paste that is used to anoint weapons and wargear. Finally, all that remains are the fleshless skulls of the fallen, piled in tottering heaps as an offering to Khorne.
The source of this monstrous savagery is the Daemonkin's object of worship. They seek to imitate a Bloodthirster of Insensate Rage named Arbra'Gax and his horrific honour guard, the Charnel Reapers. So complete is The Wrath's devotion that Arbra'Gax's fury has seeped into their souls, setting them aflame with hate. They seek always to destroy their foes utterly, eradicating them down to the last scrap of matter before moving on in search of new prey.
Notable Campaigns
Warband Appearence
Warband Colours
The Renegades of The Wrath have bone helms and Bolters, black Power Armour, and red greaves and shoulder guards. They show their warband's rune on their left shoulder guard. The Khorne Berzerkers of The Wrath have bone helms and weapons, as do the warband's Chaos Terminators. The daemons they summon forth have distinctive blackened limbs and carry weapons that appear to be fashioned from bone.
Warband Badge
The badge of The Wrath is a bone Khornate rune set upon a crimson background the colour of wet, flayed muscle.
Sources
Codex: Khorne Daemonkin (7th Edition) (Digital Edition), "The Bloodsworn Hordes -The Wrath", "Slaughter Without End" (Chronology), "The Wrath" (Gallery Images)
Gallery
Community content is available under
CC-BY-SA
unless otherwise noted.