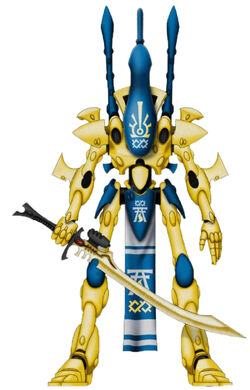 A Wraithsword is a huge close combat weapon used only by the massive war machines known as Aeldari Wraithlords. A Wraithsword is a massive Wraithlord-sized Power Sword, whose hilt is studded with Spirit Stones that amplify the Wraithlord's already impressive close combat abilities.
Their effectiveness is because of the Aeldari spirits embedded within the gems, which form a sentience unto themselves that assist the Wraithlord by compensating for the construct's vision-obscuring Wraithsight, allowing the Wraithlord to be able to cleave apart multiple enemies with alarming grace and skill with each swing.
See Also
Sources
Codex: Eldar (4th Edition), pg. 47
Rogue Trader - The Koronus Bestiary (RPG), pg. 57
Community content is available under
CC-BY-SA
unless otherwise noted.