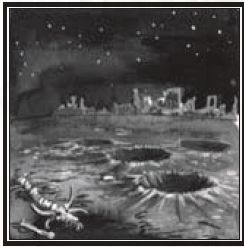 A War World is an Imperial planet that is a part of an active war zone. The Imperium of Man is constantly at war and during those conflicts whole planets can burn. Massive Imperial military campaigns and Crusades can envelop dozens of star systems and hundreds of worlds, many of which are utterly devastated by orbital bombardments and artillery in planet-spanning battles that last for entire decades. Long-term war zones are hellish places where death comes quickly. The Imperium can field truly immense armies of millions of men, grinding their way across a devastated planet and reducing its cities to rubble. Mercenaries flock to such places, hoping to leave soon after with their ships loaded with pay and loot. Deserters and escaped prisoners form bands of pirates, preying on any starships unable to defend themselves.  Planetbound, these reavers roam the war-torn worlds in feral packs, stealing anything  not nailed down and killing anyone who gets in their way. The Administratum sends colonists from more overcrowded worlds (sometimes willingly, sometimes not) to re-populate such war-torn worlds after the fighting has ended. But the bureaucratic wheels of the Imperium grind slowly and a world can lie devastated for centuries before any effort is made to resettle it. These places can be some of the most ghastly in the Imperium, with ravaged environments, cracked planetary crusts, burnt-out cities, and plains covered in the rotting flesh of the fallen.
Notable War Worlds
Sources
Warhammer 40,000 Rulebook (5th Edition)
Dark Heresy Core Rulebook (RPG), pg. 250
Community content is available under
CC-BY-SA
unless otherwise noted.