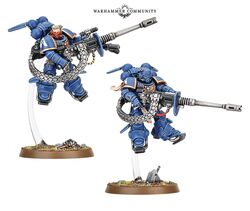 A Vanguard Suppressor is a type of Vanguard Space Marine. Vanguard Suppressors are Primaris Space Marines who specialise in rapid responses to heavily armoured enemy threats, entering battle either by dropping directly into the action via Grav-Chutes or in long, bounding leaps with their Jump Packs.
As soon as a target is sighted, the Suppressors engage their shock-absorbing servo plates and let fly with their Accelerator Autocannons. The brutal ferocity of the foot-long, armour-piercing shells they unleash will blast apart anyone caught in their path and force even the most stoic enemies to seek shelter from the murderous firestorm.
Sources
Community content is available under
CC-BY-SA
unless otherwise noted.