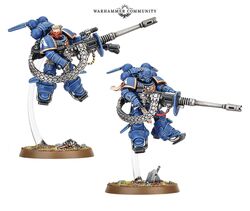 A Vanguard Suppressor is a type of fire support Vanguard Space Marine and usually a member of a Suppressor Squad.
Vanguard Suppressors are Primaris Space Marines who specialise in rapid responses to heavily armoured enemy threats, entering battle either by dropping directly into the action via Grav-Chutes or in long leaps using their Jump Packs.
As soon as a target is sighted, the Suppressors engage their shock-absorbing servo plates and let fly with their portable Accelerator Autocannons.
The brutal ferocity of the foot-long, armour-piercing shells they unleash will blast apart anyone caught in their path and force even the most stoic enemies to seek shelter from the murderous firestorm.
Role
Suppressors specialise in rapid response to heavily armoured enemy threats. They go to battle clad in Mark X Omnis Power Armour, which is created by blending elements of the heavier Gravis Pattern and the lighter Phobos Pattern over the Mark X armour exoskeleton.
The result is a comparatively lightweight but extremely durable suit of Power Armour that can easily tolerate the extreme stresses of grav-drops, jump insertion operations and the thunderous recoil of portable heavy weaponry. This is well, as the role of the Suppressors requires all three of these things.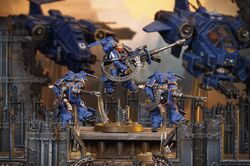 Suppressor Squads enter battle either by dropping directly into the action on the whispering vanes of their Grav-Chutes, or else in long, bounding leaps with their jump packs roaring. In either case, their duty is to rapidly and aggressively occupy dominant firing positions and then watch for developing threats to the Space Marines' advance.
Once a target is in range, the Suppressors engage their shock-absorbing servo-plates and open fire with their powerful, man-portable version of the Accelerator Autocannon.
Though lightweight enough to be borne across the battlefield in powered leaps and even fired mid-jump by more experienced Suppressors, these potent weapons hammer foot-long, armour-piercing shells into the enemy at a ferocious rate.
Enemy infantry are forced to dive for cover, their advance grinding to a halt lest they be blasted limb-from-limb. Even armoured fighting vehicles are swiftly wrecked as the concentrated hail of shots blows out motive systems, fills crew compartments with lethal spall and touches off fuel and ammunition in catastrophic detonations.
By the time the bodies and wreckage hit the ground the Suppressors are already gone, leaping away on blazing rocket-trails to take up their next firing position and slaughter the foe anew.
Unit Composition
Wargear
Sources
Codex: Space Marines (8th Edition) (Revised Codex), pp. 76, 145
Community content is available under
CC-BY-SA
unless otherwise noted.