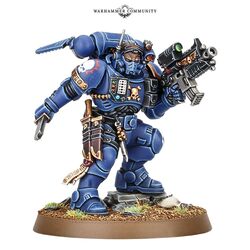 A Vanguard Lieutenant is a Primaris Space Marine Lieutenant who leads a formation of Vanguard Space Marines. Primaris Lieutenants of the Vanguard formations provide support and tactical flexibility for their Captain.
Often, when a strike team is engaged in a complex, multi-faceted operation, a Lieutenant will be assigned to oversee one or more critical aspects. In addition to their leadership qualities, Lieutenants are skilled bladesmen with Combat Knives and dead-eye shots with their Occulus Bolt Carbines.
Wargear
Sources
Codex: Space Marines (8th Edition) (Revised Codex), pp. 62, 115
Community content is available under
CC-BY-SA
unless otherwise noted.