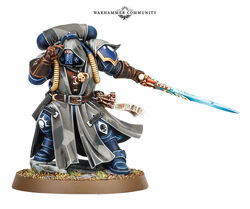 A Vanguard Librarian is a Primaris Librarian chosen for Vanguard Space Marine service. Vanguard Librarians have mastered unique battle-disciplines that focus on obscuring the passage of their comrades and wrong-footing the opponent with illusions and hallucinations.
Shaping psychic energy about themselves like a cloak of shadow, these psykers guide their Battle-Brothers through enemy territory to their destination without raising so much as a flicker of suspicion from watchful foes.
They are cowled in hooded Cameleoline Cloaks to keep their identity -- and the formidable psychic potential at their disposal -- concealed from prying eyes.
Obscuration Discipline
Vanguard Librarians are trained in the psychic arts of obscuration and illusion. They weave impenetrable cloaks of Warp energy around their Battle-Brothers, conjure haunting visions to distract and terrify their foes, and ease the Vanguard formations' passage through enemy territory. The Obscuration Discipline is available to Vanguard Librarians in addition to whatever other disciplines they may have learned within their Chapter.
Shrouding - The psyker uses his mastery of the Warp to fog the minds of his enemies, clouding their senses so that his allies appear as nothing more than indistinct shadows.
Soul Sight - The psyker shares his Warp-sight with his brethren, causing their eyes to glow with an ethereal light. So empowered, no foe can escape their omniscient gaze; the souls of their targets flare like flaming beacons in the dark.
Mind Raid - The psyker peers into the mind of the foe, raiding their thoughts for secret codes, battleplans, the location of hidden forces and any other tactical information that might be useful. Such brute psychic interrogation doubtless inflicts severe cerebral trauma on its victim.
Hallucination - The psyker instils terror and panic within his foes by conjuring images out of their memories -- from past allies seemingly returned from the dead, to apparitions wrought from nightmares.
Tenebrous Curse - As the psyker twists his hand, a psychic bolt lances through the minds of his enemies. As they reel from the assault, their own shadows seemingly come to life, pulling their casters to the ground with frenzied determination.
Temporal Corridor - The psyker creates an invisible corridor in which the passage of time is altered, allowing his allies to traverse the battlefield with supernatural swiftness.
Wargear
Sources
Codex: Space Marines (8th Edition) (Revised Codex), pp. 64, 119, 187