"There is no place foe traitors to hide from us. Let them go to ground. Let them surround themselves with throngs of baying Warpspawn or high fortress walls. It makes no difference. Our scopes will seek them out and we shall deliver unto them the Emperor's Justice."


— Eliminator Varrus, Ultramarines 2nd Company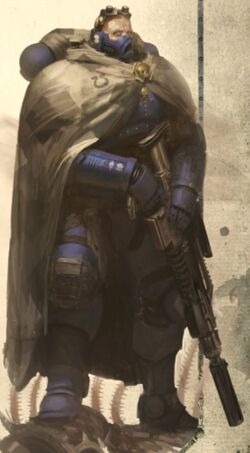 A Vanguard Eliminator is a type of Vanguard Space Marine who is usually part of an Eliminator Squad.
Dedicated marksmen, these fire support Primaris Marines haunt the shadows of the battlefield, seeking out high-value targets and bringing them down with pinpoint volleys of bolt rounds.
Role
Eliminator Squads utilise a particularly stripped down version of Mark X Phobos Pattern Power Armour. This allows them to operate with maximum discretion as they stalk their prey.
Their primary armament is the Mark III Shrike Pattern Bolt Sniper Rifle. The optical sights of this weapon can be tailored for any situation, from thermoscopic vision to precision Auspex scans that can penetrate several feet through solid matter. Once marked, there is nowhere for an Eliminator's prey to hide, and no amount of protective armour that can stop the killing shot.
Each member of an Eliminator Squad carries spare magazines filled with special issue ammunition, tailored for every tactical eventuality and variety of target.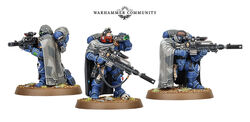 Hyperfrag rounds detonate in a shower of shrapnel, sending out a cloud of lacerating shards that devastates closely-packed infantry.
Executioner rounds, by comparison, are sophisticated self-guiding missiles slaved to a miniaturised Cogitator that can seek their target behind cover, even changing direction mid-flight with tiny bursts of ballistic propellant.
Mortis bolts, meanwhile, spew self-replicating mutagenic toxins into the flesh of the target, causing the rapid and complete collapse of all vital biological systems while making for a horrifying spectacle into the bargain.
When fighting amongst Vanguard forces, Eliminator Squads are expected to fulfil a wide variety of roles as the situation demands, switching quickly from knocking out artillery crews and enemy communications specialists, to mowing down massed foes moving to reinforce the battleline, to picking off the foe's own elite marksmen in vicious sniper-duels.

When serving as 9th Company assets attached to a more traditional strike force, they instead inhabit the specialised niche of silent assassins -- an Eliminator Squad may be tasked with the death of a specific enemy leader, threading like the spectre of death through the mayhem of battle to line up their perfect kill-shots.
Alternatively, their pinpoint fire may be put to use covering spearhead assaults or swiftly cutting the legs out from under sudden enemy counterattacks.
Unit Composition
Wargear
Sources
Codex: Space Marines (8th Edition) (Revised Codex), pp. 74-75, 150
Codex: Vanguard Space Marines (8th Edition), pp. 7, 14
Imperium Nihilus: Vigilus Ablaze (8th Edition), pg. 131 (Image)