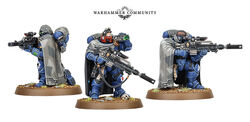 A Vanguard Eliminator is a type of Vanguard Space Marine who is usually part of an Eliminator Squad. Dedicated marksmen, these Primaris Space Marine fire support warriors haunt the shadows of the battlefield, seeking out high-value targets and bringing them down with pinpoint volleys.
The optical sights of their Bolt Sniper Rifles can be tailored for any situation, from thermoscopic vision to precision auspex scans that can penetrate several metres through solid matter. Each member of a Vanguard Eliminator Squad carries spare magazines filled with special issue ammunition for every tactical eventuality and variety of target.
Sources
Community content is available under
CC-BY-SA
unless otherwise noted.