Welcome
Hi, welcome to the Warhammer 40k Wiki Wiki! Thanks for your edit to the Ulrik the Slayer page. Please read ALL of the Important Links on the Main Page before beginning any editing activities on this wiki, as the Warhammer 40k Wiki has very strict formatting and content guidelines. Failure to follow them may lead to the immediate deletion of your work. If you have any questions or need help please contact either Lead Administrator Montonius or Associate Administrator Algrim Whitefang. Thanks, and enjoy your time here!
Lol
Excommunicated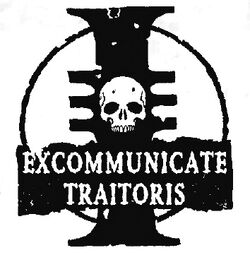 Adept Kittenyarn,
After a further in-depth review by the Holy Orders of the Inquisition, we find that you have committed the unforgivable sin of Trolling. This constitutes a form of harassment and bad behaviour that is simply not tolerated here on the WH40K Wiki. The senior Administratum of the WH40K Wiki have hereby deemed you EXCOMMUNICATE TRAITORIS, and thy name has been expunged from the list of active users by an official Edict of Obliteration.
May the God-Emperor have mercy on your corrupted soul!
Algrim Whitefang, WH40K Wiki Senior Associate Administrator

(talk) 06:05, November 25, 2016 (UTC)