Greetings fellow Adepts of the Warhammer 40K Wikia!
I wanted to bring to light a recent alliance that has formed between ourselves and a wonderful Warhammer 40K hobby website - Faeit 212 The WH40K Wiki will now be their official source of 40k lore and background information.
In case you are not aware, Faeit 212 is the preeminent site for an array of Warhammer 40,000 news and rumors as well as other contributions to various other games. It is ran and moderated by Naftka, a long time fan of everyone's favorite hobby. So if you are looking to get your daily fix of everything WH40K, head on over and check them out! They have an assortment of daily articles for you to peruse through: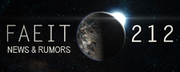 http://natfka.blogspot.com
So if you see a few new faces around here, don't be shy and say hello! Welcome them with open arms and show them around. We're an all-inclusive community of like-minded hobbyists!
Algrim Whitefang, WH40K Wiki Senior Associate Administrator http://i49.photobucket.com/albums/f262/SGM-Daly91/Warhammer%2040K/SWBadgesmall_zpsa703bc79.png (talk)
Community content is available under
CC-BY-SA
unless otherwise noted.