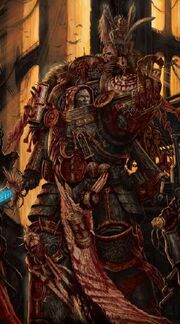 "Power is gifted to those whose faith in the Emperor is unyielding."
Rogue Trader and Inquisitor Lord Vincent Kairen Angelus
Hey there people! I am Vincent Kairen Angelus, Rogue Trader of the Angelus Dynasty and Unaligned Inquisitor Lord of the Holy Orders of the Emperor's Inquisition. I've been playing Warhammer 40000 for about 2 years now mainly the Warhammer 40000 Space Marine game as well as the pen and paper RPG combining all 5 settings into one massive setting essentially playing branch games of Dark Heresy, Rogue Trader, Deathwatch, Black Crusade and Only War. I remain vigilant even after 4 centuries of service to the Holy Ordos for as long as the Emperor remains vigilant in protecting his servants so will I.  Enim sanctus Ordos! Enim Imperator!
Here are some of my favorite pages
Community content is available under
CC-BY-SA
unless otherwise noted.