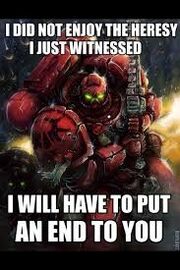 Hi, I am Andrath (AKA Jimmie). I am 16 and I love anything that has to do with WH40k. I cannot actually play the table top game due to my insignificant funds (I am 16) and I live in the southern united states with a dad who would question why I wanted to buy "action figures" as I quote him. So I spend most of my time combing this wiki and the Lexicanum. As I already stated, I love Warhammer 40k and I actually hope to be able to play one day. My favorite characters are Dante, Azrael, and Sigismund.
My favorite pages
Blood Angels
Lord Commander Dante
Red Scorpions
Carrab Culln
Horus Heresy

Community content is available under
CC-BY-SA
unless otherwise noted.