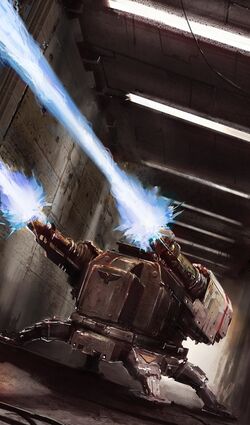 The Tarantula Sentry Gun, sometimes simply referred to as a Sentry Gun, is an automated mobile weapons system used by the Imperial Guard, various Planetary Defence Forces, the Adeptus Arbites, and the Adeptus Astartes. The exact origins of the Tarantula's nickname is unknown. The Tarantula Sentry Gun is operated by a Machine Spirit (Artificial Intelligence)-controlled logic engine capable of operating entirely without human input. As such, the Tarantula is used in a variety of roles where human soldiers may be caught at a disadvantage, such as covering approaches to key positions, conducting watch over perimeter defences against surprise attacks, and defending landing sites and extraction routes, where they can delay enemy pursuers while Imperial forces retreat.
The most effective use of a Tarantula Sentry Gun is in a tunnel or during starship boarding actions, where when positioned at the end of a corridor they can keep enemy units pinned under heavy fire while remaining safe from flanking operations. While the automated systems of the Tarantula turret will fire upon whatever target that is in range, its logic engine will first check for and engage those hostiles that it is best armed to deal with. A Tarantula armed with Heavy Bolters will preferentially fire upon enemy infantry first and a Tarantula armed with Lascannons will target enemy vehicles first. Only after the Sentry Gun's preferred target is destroyed will it fire upon the available secondary targets.
The Tarantula Sentry Gun and its variants are powered by a small power cell that is located safely inside of the turret housing. Tarantulas, and other Sentry Guns not named in Imperial records can be used during void combat by Imperial Navy or even Imperial Guard personnel in transport ships awaiting deployment to a new destination. Sentry Guns used during ship-to-ship combat can be used both for defence against enemy boarding parties and as extra firepower to provide cover for offensive boarding actions.
History
Possessed of formidable firepower, automated weapons platforms and sentry gun batteries were long used by many of the Imperium's diverse armed forces since the time of the Great Crusade and the Horus Heresy, to take on the mundane duties of point defence and security, both planet-side and aboard ship. The most common of these designs was the Tarantula, whose ease of construction, multiple weapons configurations and general reliability had made it a staple of the arsenals of the Great Crusade and a well-regarded, if perhaps inglorious, tool of war. The elite Solar Auxilia Cohorts of the Imperial Army used the Tarantula to guard exposed flanks and rear line positions where it was judgeed less likely, but nonetheless possible that an enemy would attack. They were sometimes pressed into service in the front line itself when manpower was stretched dangerously thin. The histories of some of the oldest cohorts contain tales, no doubt elaborated over the decades during that bygone era, of Tarantula weapons batteries granted honorary induction into a regiment following a close fought battle where their presence contributed greatly to the tally of enemy dead.
Imperial Guard Tarantula Sentry Guns

The Tarantula Sentry Gun is well liked by Imperial Guard troops as it frees up manpower and keeps Guardsmen from having to perform guard duty. Imperial Commanders prefer the use of sentry guns for such duties because, unlike a human soldier, a machine will never doze off or be caught off-guard while reminiscing about the girls back home! The Imperial Guard and various Planetary Defence Forces can transport their Tarantulas into position by carrying them in the troop holds of a Chimera armoured personnel transport and any other large transport due to the Sentry Gun's light weight and small size. Imperial Storm Troopers and Drop Troopers such as the Elysian Drop Troops make use of Tarantulas by deploying them from airborne Valkyrie transports. When transported in this fashion, a Sentry Gun will be safely guided to the ground via Grav-Chute, though sometimes they are packaged into crates to help protect them during this rough transity. Tarantula Sentry Guns are usually deployed onto the battlefield in batteries consisting of up to three Sentry Guns, and these will remain active and engage hostile forces until they run out of ammunition or are destroyed. The Adeptus Arbites uses Tarantulas to defend their precincts and for riot suppression and crowd control, and can transport them in the rear holds of their Rhino transports. Once deployed, due to the time and difficulty required to move them, Tarantulas are mostly used for static defence, as transporting them in the middle of a firefight is extremely difficult. The most common pattern of Tarantula Sentry Gun used by the Imperial Guard is the Metalica Pattern, originating on the Adeptus Mechanicus Forge World of Metalica.
Known Formations
Space Marine Tarantula Sentry Guns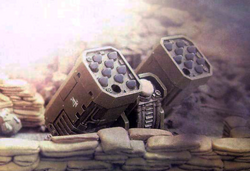 Most Space Marine Chapters keep a supply of Tarantulas in their armouries, as they find them highly useful for routine guard duties due to their full automation the low manpower requirements needed to move them into position and keep them operational. The Adeptus Astartes makes use of Tarantula Sentry Guns to defend various important strategic positions such as forward bases since many Chapter strike forces lack the necessary manpower to set out sentries. The Astartes have many ways of deploying Tarantulas to the battlefield, the most common being via Thunderhawk or Stormraven, although there are many Chapters that will deploy Tarantulas using other means, such as Drop Pods or teleportation from their orbiting Strike Cruiser or Battle Barge.
Once an Astartes Tarantula is on the ground it can be moved to different locations by use of Rhino or Land Raider transports. The Tarantula Sentry Guns used by the Adeptus Astartes utilise the same basic automated turret and weapons as the Razorback armoured personnel carrier, and sometimes when a Razorback is destroyed in combat its turret will be salvaged and refashioned into a Tarantula, but only with the aid of a Techmarine reading the appropriate Rites of Salvage.
The Astartes make use of both the common Metalica, Phaeton, and Estaban III Patterns, much like the patterns of Sentry Gun deployed by the Imperial Guard and other Imperial forces, although it is known that the Astartes variants of the Tarantula can be outfitted with different weapon loadouts and other equipment. There is also another class of Sentry Gun used by the Space Marines known as the Widowmaker Pattern Sentry Gun, though Imperial records currently have no further information on this class of Sentry Gun other than the fact of its existence. Most Space Marine Chapters will avoid fielding Tarantulas directly on the battlefield due to their lack of mobility, preferring to deploy them as front-line weapons only as an act of last resort or as additional firepower for individual squads operating deep within enemy territory, where reinforcements and vehicles may not be available.
Known Formations
Firing Modes
The Tarantula Sentry Gun has three primary firing modes that it can be set to when first activated in the field. They are as follows:
Armament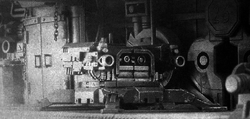 There are many types of Sentry Gun weapon loadouts, the most common being either a set of twin-linked Heavy Bolters for anti-infantry assault or a set of twin-linked Lascannons for anti-armour defence. These loadouts are the most common and are used by all Imperial forces that make use of Tarantulas. Tarantula Sentry Guns used by the Adeptus Astartes can also be armed with a Multi-Melta and a searchlight for close-range defence or a set of twin-linked Assault Cannons for combat against heavy infantry, although the latter is relatively uncommon. Tarantula Sentry Guns can be outfitted with Camouflage Netting to better conceal them from the enemy.
Variants
There are several different variants of the Tarantula Sentry Gun in use by the Imperial Guard and the Adeptus Astartes. All of the known variants include:
Derivatives
There is at least one known derivative variant of the Tarantula Sentry Gun in use:
Adeptus Mechanicus Technical Specifications
Tarantula Sentry Gun
Vehicle Name:
Tarantula Sentry Gun
Main Armament:
Twin-linked Heavy Bolters
Forge World of Origin:
Metalica
Secondary Armament:
N/A
Known Patterns:
I - V
Traverse:
360 degrees
Crew:
Automated (Machine Spirit)
Elevation:
0 to 70 degrees
Powerplant:
Internal Power Cell
Main Ammunition:
600 Rounds
Weight:
1.1 Tonnes
Secondary Ammunition:
N/A
Length:
5.3 metres
Armour:
Width:
5.3 metres
Height:
1.6 metres
Superstructure:
10 millimetres
Ground Clearance:
N/A
Hull:
N/A
Max Speed On-Road:
N/A
Gun Mantlet:
N/A
Max Speed Off-Road:
N/A
Vehicle Designation:
0427-941-4098-TA551
Transport Capacity:
N/A
Firing Ports:
N/A
Access Points:
N/A
Turret:
10 millimetres
Tarantula Sentry Gun
Vehicle Name:
Tarantula Sentry Gun
Main Armament:
Twin-linked Lascannons
Forge World of Origin:
Estaban III
Secondary Armament:
N/A
Known Patterns:
I - VII
Traverse:
360 degrees
Crew:
Automated (Machine Spirit)
Elevation:
0 to 70 degrees
Powerplant:
Internal Power Cell
Main Ammunition:
20 shots from powerpack
Weight:
1.1 Tonnes
Secondary Ammunition:
N/A
Length:
5.3 metres
Armour:
Width:
5.3 metres
Height:
1.5 metres
Superstructure:
10 millimetres
Ground Clearance:
N/A
Hull:
N/A
Max Speed On-Road:
N/A
Gun Mantlet:
N/A
Max Speed Off-Road:
N/A
Vehicle Designation:
5463-028-8338-TA021
Transport Capacity:
N/A
Firing Ports:
N/A
Access Points:
N/A
Turret:
10 millimetres
Hyperios Anti-Aircraft Platform
Vehicle Name:
Hyperios Air Defence Platform
Main Armament:
Twin-linked Hyperios Missile Launchers
Forge World of Origin:
Phaeton
Secondary Armament:
N/A
Known Patterns:
I - III
Traverse:
360 degrees
Crew:
Automated (Machine Spirit)
Elevation:
0 to 70 degrees
Powerplant:
Internal Power Cell
Main Ammunition:
20 Missiles
Weight:
2.1 Tonnes
Secondary Ammunition:
N/A
Length:
5.3 metres
Armour:
Width:
5.3 metres
Height:
1.8 metres
Superstructure:
10 millimetres
Ground Clearance:
N/A
Hull:
N/A
Max Speed On-Road:
N/A
Gun Mantlet:
N/A
Max Speed Off-Road:
N/A
Vehicle Designation:
5463-028-8339-TA024
Transport Capacity:
N/A
Firing Ports:
N/A
Access Points:
N/A
Turret:
10 millimetres
Also See
Sources
Gallery