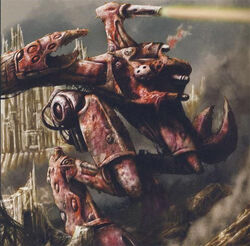 The Subjugator Scout Titan, sometimes referred to as a Slaanesh Subjugator or simply a Subjugator, is a small, scout-grade Chaos Titan and Daemon Engine dedicated to the service of Slaanesh, the Chaos God of pleasure and excess.
The Subjugator embodies the essence of Slaanesh; being lithe, incredibly swift, and fully able to move quickly and still accurtaely fire its weapons. When the hordes of Slaanesh attack, the Subjugators will race ahead of the army, galloping towards its foe with its long, powerful legs, the daemonic spirits inside its chassis chattering and screaming with the sensations of extreme pleasure that battle brings. These shrieks turn to howls of elation as the war machine's weapons are brought to bear and the foe is destroyed in exquisite agony.
The Subjugator is armed with Titan-grade Sonic Weapons, including a Doom Blaster and twin-linked Blastmasters like those wielded by Emperor's Children Noise Marines, who are also favoured servants of Slaanesh. Subjugators are also armed with two sinister, psychically-powered Tormentor Cannons that unleash the Empyrean energy within the walker to kill its victims with unbearable agony, leaving their bodies charred by the twisted energies.
As hard as it is to believe, the Subjugator is even more skilled in close combat; it is equipped with two Hellslicer Battle Claws, which can be used to cut apart any who dare to face this Daemon Engine which revels in the pleasure brought by spreading death and destruction.
When the hordes of Slaanesh attack, it is the Subjugator Scout Titans which race ahead of the army. Similar to an Imperial Warhound-class Titan, the role of these swift war machines is to suppress enemy fire and allow the Slaaneshi forces to attack with minimal resistance.
The Subjugator carries a strange array of weaponry, the most potent of which are the Psi-Pulse generators. These are studded with gems and enclose a honeycomb of membranes which resonate to the power of the Warp. The Subjugator uses its own link to the Warp to channel raw psychic power through the generators, creating a Psi-Pulse capable of punching through the thickest armour. Loping along the flanks of the battlefield, the Subjugator uses its Psi-Pulse to pick off enemy artillery before it can fire.
The Subjugator also possesses two vicious Hellslicer Battle Claws, which it uses to rip armour to shreds and punch through the tough shells of enemy Titans.
And yet, the Subjugator is not unstoppable. Despite the Subjugator's intimidating size and the awesome power of its weapons that are capable of pinning entire squads down, those brave enough to face it will find that its armour is no better than that of a Space Marine Dreadnought, potentially ending the Daemon Engine's pleasure far quicker than its possessing spirits desire.
Armament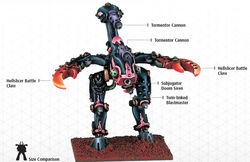 Ordo Malleus Departmento Analyticus Technical Specifications
The Ordo Malleus has not yet determined the technical specifications for this Daemon Engine, if such a thing is even possible.
See Also
Sources
The Horus Heresy - Collected Visions (Art Book), pg. 356
White Dwarf 190 (UK), "Epic: Slaanesh War Machines," by Gav Thorpe, pp. 30-34
Gallery