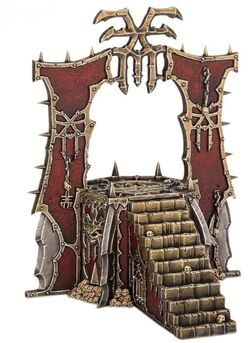 A Skull Altar is a great monument sacred to the Blood God Khorne that is raised by that Chaos God's worshippers. It is erected to venerate the Lord of Murder and is constructed from the piles of bloody tributes heaped as offerings for Khorne's Skull Throne in the Realm of Chaos.
A Skull Altar is a nexus of the Blood God's devotion. Those who fight in its shadow are driven to great acts of bloodshed.
From atop this grisly pedestal a mortal priest of Khorne or other servant of the god roars out invectives, invoking the judgements of the Blood God to smite down all signs of weakness or worse, sorcery.
As much a platform for violent oratory as bloody sacrifice, the exhortations of Khorne's priests echo from this brass-clad edifice like the tolling of infernal bells. The power of this altar can greatly weaken the power of sorcerers or other psykers.
Sources