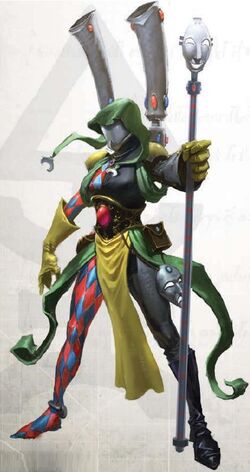 A Shadowseer, known in the Aeldari Lexicon as an esdainn, is a powerful Aeldari Harlequin psyker whose abilities are centred around spreading confusion and fear during both a Harlequin performance or Masque and on the battlefield. As the spiritual guides of the Harlequins, Shadowseers are enigmatic and mysterious individuals. Though not affiliated to a Troupe, they perform alongside them as part of a masque, using their psychic powers to subtly enhance a performance. In battle, however, the Shadowseer turns his psychic might upon the enemy, invading their minds and souls to cause terror and mayhem.
Like Aeldari Seers of old, the Shadowseer wears long robes, his head covered by a long cowl weighted with sun and moon trinkets. Further curios hang from his belt, including two Harlequin masks and mysterious pouches, while in his left hand he wields a Miststave -- both a mark of office and a potent close combat weapon. To augment his prodigious psychic skills, the Shadowseer wears a fluted Creidann Grenade Launcher that fires hallucinogenic cartridges, while his Harlequin mask is disturbingly blank and impassive. That is, until an unsuspecting victim gazes into it and sees a distorted reflection of their future self. This disturbing vision, combined with the narcotic gas, leaves most foes incapable of defending themselves against the Shadowseer.
Illusion, misdirection and terror whirl about the Shadowseer like a psychic tempest. With a subtle twist of the mind, these warrior mystics can erase the memory of the Harlequins from their enemies' thoughts, clouding their perceptions with confusion or horror. It is child's play for Shadowseers to bind their victims within the twists of their own minds, engaging them in one-sided psychic duels, or tricking their bodies into stopping hearts and choking off breath. Wherever the Shadowseer treads the battlefield, shards of illusory light and shadow blind the foe, while clouds of hallucinogenic gas send them into paroxysms of terror or bewildered joy. Discipline collapses, replaced by a bedlam of screams, gibbering and panicked, aimless gunfire. Warriors stagger drunkenly, slashing their blades at phantom foes.
Through it all strides the Shadowseer -- an island of sinister calm amid a raging ocean of madness, robes swirling as their faceless mask reflects naught but the emptiness of the void. During a Masque the Shadowseers of a Harlequin troupe act as the primary storytellers, releasing programmed hallucinations from their creidann hallucinogen grenade launcher backpacks which form scintillating phantoms that dance and duel in the air. In older Imperial texts they are sometimes referred to as Harlequin Warlocks.
History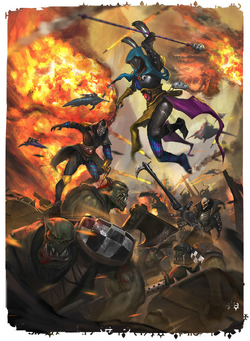 Shadowseers use manipulation of the mind as their foremost weapon. In battle, they turn their victims' senses against them, blinding eyes, driving brave men mad, or gouging fatal psychosomatic wounds. At the same time, they shield their allies from harm, wreathing them in veils of illusion until the moment comes to strike. Enigmatic masters of trickery and misdirection, the Shadowseers' prodigious psychic abilities are a powerful tool in the ongoing war against the servants of Chaos.
Amidst the mayhem of battle, Shadowseers use their phantasmic powers to terrify and misdirect, drowning the enemy in nightmare visions, and should one of the dreaded Solitaires deign to join a battle, they can slaughter entire enemy regiments in impossible displays of martial prowess. In the Harlequins' performances, the Shadowseers play the role of Fate. They act as narrators, speaking in monologue, song or rhyme while their fellow Players whirl and spin around them. It is the Shadowseers' subtle psychic abilities, coupled with the hallucinogenic creidann grenade launchers they wear upon their backs, that provide diverse illusions for their shows. Blasts of multicoloured light, glowing swirls of blinding mist and white-hot illusory flame -- all are conjured forth with consummate showmanship.
All Shadowseers wear a featureless mask finished to a silvered, mirror sheen. They never remove their masks in the presence of others, and so none, even amongst their peers in a Harlequin troupe, have looked upon the wearer's true face. Instead, when each looks upon that mirrored mask, that individual see something different. Some see what the wearer wants them to see, others what they themselves want to see. During a performance, this mask takes on a myriad of identities, as is appropriate to the Shadowseer's role of the personification of fate. During battle, when a Shadowseer is performing the so-called Dance of Death, the mask reflects back upon those unfortunates that see it a terrifying range of faces. It is said that many see their own deathmask in that reflection, though, if this is true, none have ever confirmed it, for all who gaze upon it die within moments.
Though a Shadowseer's own mask is a blank, faceless thing reflecting nightmares back at those who dare gaze upon it, he carriers two other masks on his belt. Facts are few but truths are many where the Harlequins are concerned and the masks on the Shadowseer's belt are no different. Some say they are the masks of slain Troupe members, held by the Shadowseer until a new Player is found, though there may be a little more to it than that: Shadowseers can foresee the fate of their fellow Harlequins, so when an Aeldari becomes a Harlequin it will often be a Shadowseer who presents the new Player with their mask, peering into the new Harlequin's future to scry the role they were fated to play
Shadowseers are skilled in reading the skeins of the future. However, their second sight is differently honed to that of Farseers; they are concerned less with the literal manipulation of events, but rather the fulfilment of the mythic roles that others unknowingly assume. Concealing their identities with stage names, Shadowseers act as envoys to their Craftworld or Commorrite kin, their faceless masks revealing nothing of their thoughts or intentions.
High Shadowseer
The High Shadowseer, sometimes referred to in older texts as the "High Warlock" and called in the Aeldari Lexicon the athesdan, is the overall commander of a Harlequin masque's Shadowseers, and may overrule commands issued to Warlocks by their Troupe Masters -- though this rarely happens in practice. It is not unknown for a High Warlock to take the Warlocks from the troupes and form them into a separate unit under his (or her) own command.
The High Shadowseer advises the High Troupe Master on all psychic matters pertaining to a masque. In performance, the High Shadowseer leads and coordinates the other Shadowseers as they play the role of a supporting chorus to his Storyteller; in battle, the High Shadowseer may coordinate the Shadowseers' grenade barrages, or act as a completely independent warrior.
Phantasmancy Discipline
Shadowseers are the masters of illusion and misdirection. Such is their power and intellect, they can reach into the minds of mortals and twist their perceptions at a whim. This may involve shrouding the presence of the Harlequins from the victims' mind, or trapping the foe in purgatorial thought-mazes of their own worst fears. Whatever the precise nature of the manipulation, it will invariably be subtle, sinister, and dangerously cruel. Known powers of the Phantasmancy Discipline include:
Shadowseer Markings
A Shadowseer's garb incorporates a version of their masque's colours and rune, while occasionally displaying the device of whichever Troupe they most often fight alongside.
Shadowseer's Mask
Most Harlequin masks project whatever appearance the wearer wishes, yet a Shadowseer's mask shows only a twisted reflection of those who stare into its depths.
Wargear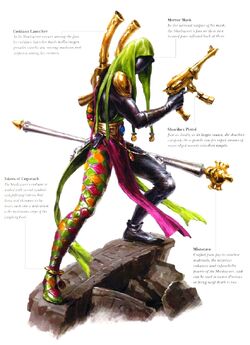 Notable Shadowseers
Sources
Gallery