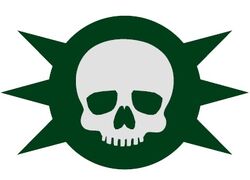 "The Seventy" was the colloquial name given to those Loyalist Astartes of the Death Guard Legion who made up a portion of Captain Nathaniel Garro's 7th Great Company and the single Loyalist Astartes of the Sons of Horus Traitor Legion, Iacton Qruze, who escaped aboard the Imperial frigate Eisenstein during the Istvaan III Atrocity.
The Seventy brought word of the Warmaster Horus' betrayal of the Emperor of Mankind to Terra. This group of Loyalist Astartes was referred to by this moniker even after their numbers began to dwindle as a result of the casualties incurred during the conflagration that was the Horus Heresy.
Notable Members of The Seventy
See Also
Sources
The Flight of the Eisenstein (Novel) by James Swallow
Galaxy in Flames (Novel) by Ben Counter
Garro: Ashes of Fealty (Audio Drama) by James Swallow
Ghosts Speak Not (Short Story) by James Swallow
Garro (Anthology) by James Swallow
Community content is available under
CC-BY-SA
unless otherwise noted.