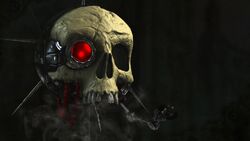 A Servo-skull is a drone-like robotic device that appears to be a human skull outfitted with electronic or cybernetic components that utilise embedded anti-gravity field generators to allow them to hover and drift bodiless through the air.
They are fashioned from the skulls of loyal Adepts of the Adeptus Terra and other pious Imperial servants to which robotic components and an antigravitic impeller have been added. This is so that they may continue their work for the Emperor of Mankind even after death. To have one's skull chosen to serve as a Servo-skull is a great honour in the Imperium, for it implies one's service in life has been satisfactory enough to warrant continuation beyond death.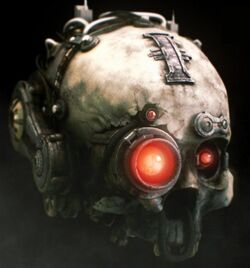 Servo-skulls form an important niche in Imperial work, serving as everything from auto-scribes that copy down important conversations and confessions of prisoners to simple moving torches, hovering about their charge with candles and electric lanterns to illuminate the area.
Certain Magi of the Adeptus Mechanicus and high-ranking Imperial officials have special logic engines and Cogitators (computers) that slave Servo-skulls to a particular owner.
Servo-skulls are used throughout all the different Adepta of the Imperium of Man, and each is built to perform a certain task. Some are designed for military roles, and among these some are built with enhanced optical sensors that allow them to serve as a reconnaissance scout.
Servo-skulls are often used by Inquisitors and Inquisitor Lords as non-human assistants referred to as Familiars. In this case they are mentally linked to the Inquisitor through psychic or cybernetic means, allowing him to control them and see and hear through their electronic senses.
Notable Variants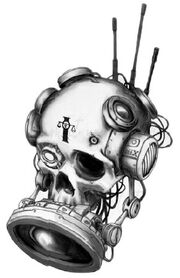 See Also
Sources
Gallery