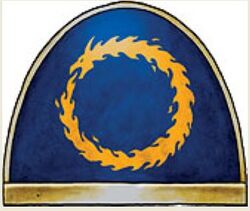 The Rehati served as the Thousand Sons Legion's inner coven of advisors and was comprised of the most trusted confidants to the Primarch Magnus the Red throughout the Great Crusade until the start of the Horus Heresy in the early 31st Millennium. 
The Rehati were drawn from the ranks of the elite captains of the XV Legion's Fellowships to address whatever issues were currently concerning the Legion. Its members were ever-changing, and inclusion within the Rehati was dependent on many things, not least of which was an Astartes' standing within the Legion.
The original five pre-Heresy Cults of the Thousand Sons vied for prominence and a place in the Primarch's inner circle, knowing that to bask in his radiance would only enhance their psychic powers.
As the power of the Empyrean waxed and waned, so too did the mystical abilities of the cults. The Rehati served a similar position for the Thousand Sons that was comparable to the Mournival of the Sons of Horus Legion.
Following the devastation of their homeworld during the Fall of Prospero and the Legion's mystical migration to the Eye of Terror, the Rehati became made up of a coven of nine Exalted Sorcerers and Daemon Princes favoured by Tzeentch that hold the rank of Magister Templi.
Each Magister Templi of the Rehati led one of the nine Post-Heresy Cults of the Thousand Sons. Each Cult in turn is divided into nine Sects commanded by lesser Sorcerers and Daemon Princes. These in turn are further divided into thrallbands, which make up the basic fighting units of the Thousand Sons Legion in the 41st Millennium.
Notable Rehati Members
Source
Codex Heretic Astartes - Thousand Sons (8th Edition), pp. 16-17
A Thousand Sons (Novel) by Graham McNeill
Prospero Burns (Novel) by Dan Abnett
The Crimson King (Novel) by Graham McNeill, Ch. 23
Community content is available under
CC-BY-SA
unless otherwise noted.