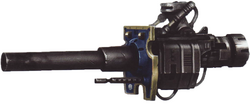 The Rapid-Fire Battle Cannon is a variant of the Battle Cannon commonly found on Imperial armoured vehicles used by the combat walkers of the Questor Imperialis, the Imperial Knights, and by the Renegade Knights of the Questor Traitoris. These weapons are akin to a large-calibre, ballistic artillery cannon, and feature an automated loading system that allows them to fire accurate, highly-explosive shots at a rapid rate. The explosions are capable of racking up a horrific number of casualties when employed against massed infantry hordes, yet are also capable of destroying light and medium tanks with ease.
The Rapid-Fire Battle Cannon is the main ranged weapon of the Knight Paladin, but is also used by the Knight Crusader. Most Rapid-Fire Battle Cannons also feature a Heavy Stubber mounted to the weapon's gun shield, which is used to engage enemy infantry that get too close.
Variants
Due to the sheer diversity of Knight Worlds and Forge Worlds in the Imperium there exist a multitude of minor variants of the Rapid-Fire Battle Cannon, each different from the last in a number of distinct ways. All known variants include:
Sources
Codex: Imperial Knights (7th Edition), pp. 16, 21, 24, 29-30, 115
Warhammer 40,000: Index - Chaos (8th Edition), pg. 109
The Horus Heresy - Book Four: Conquest (Forge World Series) by Alan Bligh, pg. 301
The Horus Heresy - Crusade Imperialis Army Lists, pg. 112
Warhammer 40,000: Freeblade (Video Game)
See Also
Gallery
Community content is available under
CC-BY-SA
unless otherwise noted.