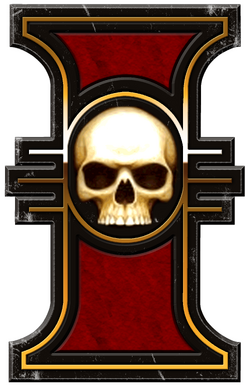 A Radical is an agent of the Imperial Inquisition who turns to methods, tools, and ideologies forbidden by the Imperial Creed, choosing instead to turn the darkness of Chaos, xenos, witches and other enemies of Humanity against themselves.
This proves to be a slippery slope indeed, and thus Radicals tread where many others fear to follow, imperiling their very souls in the quest to find salvation for a million worlds.
The path of the Radical is rarely one set upon with deliberate intent. Rather, the terrors that Inquisitors witness over the course of their duties may lead them to make certain decisions, responding to the needs of the moment.
Little by little, step-by-step, an Inquisitor's methods and outlook might change. Perhaps a minor, doctrinal compromise is made, the letter of the law interpreted instead by its supposed intent, a deviant course of action undertaken, a forbidden text consulted, the babbling of a condemned criminal heeded. Before they are even aware of the path they are walking, some Inquisitors are corrupted, and ultimately branded Radical by their fellows.
Such individually insignificant transgressions take many and varied forms, and some Inquisitors labelled Radical by their peers might believe themselves realists, relativists, or possessors of truths others refuse to comprehend.
Common to all such individuals is the unbending belief that what they do, they do for the good of the Imperium. They know, as no others possibly can, that it is not only their right, but their God-Emperor-given duty to use whatever resources they can in the endless battle against the eternal foes of Mankind.
If individual Inquisitors cannot, or will not recognise when they have become a Radical, then who is it that imparts such a label? To the Puritans, those for whom only the strictest adherence to traditional Imperial dogma is acceptable, any who deviate from their rigid philosophies are suspect.
Others know that the true nature of the universe casts such issues not in black and white but infinite and murky shades of grey.
Radical Philosophies
Though all Radicals have by defintion deviated from the Imperial Creed, they vary immensely in their beliefs, from those who use the forces of the Warp against its inhabitants to Inquisitors who seek to shatter the very Imperium they serve.
A Radical will often say that all Inquisitors start out as Puritans, but that as they are exposed to the realities of the Imperium and the galaxy beyond, they inevitably become more and more flexible in their ideas and all become Radicals in the end.
Puritans, on the other hand, consider the more extreme Radicals to have been corrupted by the very power they wield and the dreadful knowledge to which they are exposed.
Most Radicals try to conceal their divergent beliefs when in the company of many other Inquisitors, preferring to pursue their agendas away from the sight of more puritanical souls. Some, however, are outspoken in their views and can gain many enemies in attempting to convert Puritans to their cause.
Inquisitors are generally wary of such beliefs within their Acolytes, at least until they have proven themselves over many successful investigations.
Notable Radical Factions
The most well-known of the different philosophies currently practiced by Radical Inquisitors within the ordos include the following named factions.
Sources
Codex: Adeptus Custodes (8th Edition), pg. 7
Dark Heresy: The Radical's Handbook (RPG), pp. 6, 22, 78-92, 98-123, 128
Inquisitor Rulebook (Specialty Game), pg. 8
Dark Heresy 2nd Edition: Core Rulebook (RPG), pg. 316
Deathwatch: Mark of the Xenos (RPG), pp. 77-78
The Thorians (Specialty Game) by Gav Thorpe, pg. 7
Dark Heresy: Disciples of the Dark Gods (RPG), pp. 181-183
Community content is available under
CC-BY-SA
unless otherwise noted.