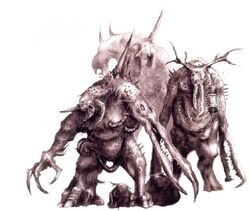 A Plague Ogryn is an Ogryn that has been heavily mutated by the power of the Chaos God Nurgle to become bloated and putrid harbingers of disease. Similar to Plague Marines, they are often utilised by Chaos Space Marine warbands who serve the Plague God.
Plague Ogryns are hideously distorted creatures; hulking masses of bloated, diseased flesh and twisted mutations. The effects of Nurgle's "gifts" on the already massively strong and hardy Ogryn frame are particularly foul and they prove ideal breeding grounds for nightmarish plagues of all kinds.
In battle these creatures can prove almost impossible to kill and their merest touch brings a horrific death.
History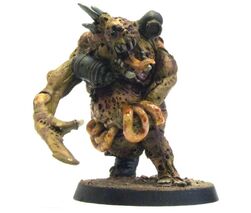 The first Plague Ogryns are believed to have been created by the mysterious Heretic Astartes warband known as The Tainted during the Siege of Vraks.
A faction devoted to Nurgle in his aspect as a mortifier of flesh, they are said to have worked the darkest of their sorcerous arts on the already distorted and chem-augmented Ogryn slave stock being used by the rebel forces on Vraks Prime.
Since that war Ordo Malleus savants believe the secrets of creating Plague Ogryns have been refined further by The Tainted, deep within the Eye of Terror, and they now trade these vile beasts among the servants of the Lord of Decay in return for fresh subjects on which to practice their twisted fleshcraft.
Sources
Community content is available under
CC-BY-SA
unless otherwise noted.