"Heretics crave the cleansing fire of absolution. They need not fear for we shall deliver."

— Axiom First, attributed to Canoness Helflax of the Order of the Argent Shroud.
The Order of the Argent Shroud is one of the Orders Militant of the Adepta Sororitas, or the Sisters of Battle, founded in honour of Saint Silvana by the Ecclesiarch Alexis XXII (the long-lived successor of the great reformer, Sebastian Thor) in the 36th Millennium when the Convent Sanctorum was split between the Convents on Ophelia VII and Terra, founding the Orders Militant of the Ebon Chalice, Valorous Heart, Fiery Heart and the Argent Shroud.
History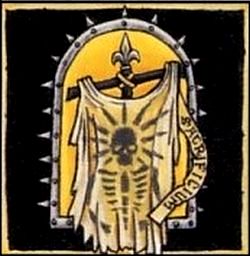 Like the other founding Saints of the Sororitas, Silvana was one of five sisters and a member of Alicia Dominica's bodyguard when she was taken before the Golden Throne. She is noted for the many selfless acts of self-sacrifice she performed throughout her life, and Sisters who have survived a battle despite terrible odds often invoke her name in thanks for deliverance from the forces of evil. She was one of the first Sisters to lead Holy Crusades in the name of the Emperor of Mankind. In the late 36th Millennium, Silvana is said to have died after being poisoned by a Death Cult Assassin, and legend states that her body mysteriously vanished after having laid in state for a week within the Inner Sanctum of the Convent Prioris. A silvery image of her bones was left imprinted on her death shroud, which is revered as one of the Sisterhood's most holy relics, and that gives the Order its title. The image most often associated with Saint Silvana is the death shroud, imprinted with the ghostly image of her skeleton. She was declared an Imperial Saint by the unanimous vote of the Holy Synod of the Ecclesiarchy. Silvana was renowned for her altruistic spirit and her stoic faith. She seldom spoke, believing that deeds on the battlefield spoke more of a warrior's devotion than any words. The Sisters of the Argent Shroud likewise rarely speak, and they are famed for their selfless acts of heroism. As such, the Order fields a high number of Celestian and Seraphim squads, their faith a shield as strong as their silver armour and their righteousness a weapon as potent as Bolter fire.
Notable Campaigns
Notable Sisters of the Argent Shroud
Order Appearance
Order Colours
As the name of the Order suggests, these Battle Sisters wear silver Power Armour coupled with white cloaks that have red linings. The weapons that they bear are also red.
Order Badge
Their Order's iconography is that of an ebon skull with an Iron Halo.
Sources
Gallery
Community content is available under
CC-BY-SA
unless otherwise noted.