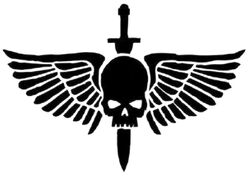 The Oolitic Kidney, also known as the Purifier, is the 14th of the 19 genetically-engineered gene-seed organs implanted within a Space Marine Neophyte to create a new Astartes. The organ is implanted within the new Astartes' abdominal cavity and it becomes a part of the Space Marines' excretory system, an emergency detoxification organ that allows a Space Marine to survive exposure through the respiration, tactile contact or ingestion of poisons, toxins and gases that are too powerful for even his rugged system to normally process without this organ's help.
However, this detoxification process renders the Astartes unconscious once it begins, so it can be very dangerous if required during combat. Under normal circumstances, the Oolitic Kidney also acts as a regulatory organ for the Astartes physiology, maintaining the efficient action of the Space Marine's advanced circulatory system and the proper functioning of his other organs, implanted or otherwise.
Sources
Codex Adeptus Astartes - Space Marines (8th Edition), pp. 10-11
Codex: Black Templars (4th Edition), pg. 10
Codex: Space Marines (5th Edition), "The Making of a Space Marine," pg. 11
Index Astartes I, "Rites of Initiation - The Creation of a Space Marine" by Rick Priestley & Gav Thorpe, pg. 5
Warhammer 40,000: Compendium (2nd Edition), "The Origins of the Legiones Astartes" by Rick Priestley, pg. 8
White Dwarf 98 (UK) (1988) "Chapter Approved: The Origins of the Legiones Astartes" by Rick Priestley, pg. 14
Community content is available under
CC-BY-SA
unless otherwise noted.