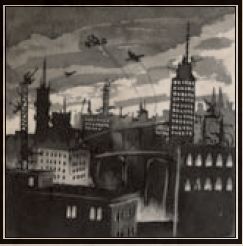 A Mining World is an Imperial planet rich in one or more of the raw strategic materials required by the Imperium's manufactoria and Forge Worlds.
The people of Mining Worlds are likely to be slaves or penal workers of the Adeptus Arbites who live out their lives mining and transporting massive quantities of metallic ore, rock, minerals, frozen gases or some other useful, strategic or precious substance.
Mining Worlds tend to be rather inhospitable places, and many do not even possess a breathable atmosphere, though a few may support a greater variety of life, developed cities and even hive cities. On these Mining Worlds the population is more likely to be free citizens of the Imperium, though they work no less hard in the mines for the good of their rulers and the Emperor than penal laborers.
Notable Mining Worlds
Videos
Sources
Battlefleet Gothic Rulebook (Sourcebook), pg. 159
Codex: Sisters of Battle (2nd Edition)
Codex: Space Marines (5th Edition), pp. 25, 49
Codex: Space Marines (4th Edition)
Dark Heresy: Black Industries' "Guide to the Calixis Sector," pp. 58-60
Dark Heresy (RPG), "Worlds of the Calixis Sector"
Dataslate: Cypher - Lord of the Fallen, "A Nemesis Unveiled"
Deathwatch: First Founding (RPG), pp. 14-19
Imperial Armour Volume Three - The Taros Campaign, pp. 14, 18, 36-41, 44, 83-85, 146
Imperial Armour Volume Eight - Raid on Kastorel-Novem, pp. 76-77
Imperial Armour Volume Nine - The Badab War, Part One, pg. 6
Imperial Armour Volume Ten - The Badab War, Part Two, pg. 89
Imperial Armour Volume Eleven - The Doom of Mymeara, pp. 7-12, 70-73, 75, 90, 129, 131, 142, 148
Index Astartes IV, "Claws of the Raven - Raven Guard Space Marine Chapter", pp. 96-101
Warhammer 40,000 Expansion: Apocalypse, pp. 129, 171
Warhammer 40,000: Rulebook (3rd Edition), pg. 115
White Dwarf 276 (US), "Index Astartes: The Raven Guard"
Deliverance Lost (Novel) by Gav Thorpe
Angels of Darkness (Novel) by Gav Thorpe
Grey Knights (Novel) by Ben Counter
Ravenwing (Novel) by Gav Thorpe
Sons of Dorn (Novel) by Chris Roberson
Storm of Vengeance (RPG)
Warhammer: Siege (1st Edition), pg. 94
Sisters of Battle 1 (Marvel Comic)