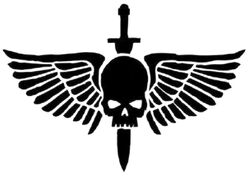 The Master of Sanctity, also sometimes styled High Chaplain or First Chaplain, is the head of the Chaplaincy in a Chapter of the Adeptus Astartes and head of the Chapter cult, its conglomeration of beliefs and cultural practices.
Different Chapters sometimes use different titles more in line with their own culture for this crucial position.
One of the Masters of the Chapter, the Master of Sanctity oversees its spiritual health by assigning Chaplains to the individual companies.
Immediately beneath the Master of Sanctity among a Chapter's Chaplains is the Reclusiarch, the head of the Reclusiam. In some Chapters the responsibilities of the Master of Sanctity and the Reclusiarch are merged into the same office.
Sources
Warhammer 40,000: Compendium (1st Edition), "Chaplains & Commissars"
Codex: Space Marines (5th Edition), pp. 17, 94
Codex: Blood Angels (5th Edition), pg. 45
Codex: Angels of Death (2nd Edition), pg. 82
Codex: Space Wolves (5th Edition), pg. 50
Imperial Armour Volume Ten - The Badab War - Part Two, pp. 84-86
Codex Supplement: White Scars (8th Edition), pg. 11
Codex Supplement: Angels of Death (7th Edition), pp. 26, 31, 34
Codex: Grey Knights (7th Edition) (Digital Edition), "Chapter Organisation"