The Marauders is a Loyalist Space Marine Chapter and a Second Founding Successor Chapter of the White Scars according to the Apocrypha of Davio, written in the 33rd Millennium.
The Mantis Warriors Chapter, which grew infamous during the Badab War, was created from the gene-seed of the Marauders.
The Marauders Chapter are isolationist in their tendencies. They will fight readily enough alongside other Imperial forces, but remain aloof and exchange only what information they must to prosecute their campaigns.
Recognised for their particular aptitude as marksmen, the Marauders often set ambushes for their enemies and then hammer them with massed firepower before sweeping down to finish off the ragged and terrified survivors.
Chapter History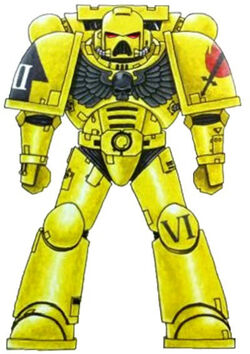 Notable Campaigns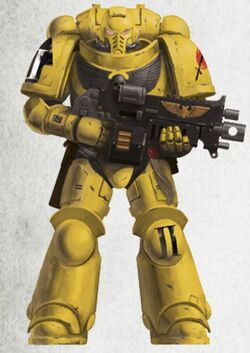 Notable Marauders
Dreadnought Vaas - Vaas is a Dreadnought in the Marauders Chapter's 9th Company. Vaas was a Veteran sergeant of the Chapter before his injuries interred him within the life-saving cybernetic sarcophagus of a Dreadnought. His nickname -- "Old Painless" -- is stenciled on the right glacis of the Dreadnought and he also bears a large, Low Gothic letter "M" on his left knee, the meaning of which is unknown.
Chapter Appearance
Chapter Colours
The Marauders' primarily wear yellow power armour. The Aquila or Imperialis on the chest plate is black.
The black squad specialty symbol on the right shoulder guard designates operational specialty -- battleline, close support, fire support, Veteran or command.
A white High Gothic numeral is stenciled in the centre of it, indicating squad number.
A black High Gothic numeral stenciled on the centre of the left knee guard indicates company number.
Chapter Badge
The Marauders' Chapter badge is a black sword with its blade surrounded by a nimbus of red flames, centred on a field of yellow.
Sources
Adeptus Astartes: Successor Chapters (Limited Release Booklet)
Codex: Space Marines (9th Edition), pg. 70
Codex: Space Marines (8th Edition) (Revised Codex), pg. 40
Codex: Space Marines (6th Edition), pp. 8, 38, 143
Codex: Dark Angels (4th Edition), pg. 73
How to Paint Space Marines, pg. 81
Imperial Armour Volume Two - Space Marines and Forces of the Inquisition, pp. 30, 80, 136, 185
Imperial Armour Volume Two, Second Edition - War Machines of the Adeptus Astartes, pg. 19
Imperial Armour Volume Twelve : The Fall of Orpheus, pg. 40
Gallery