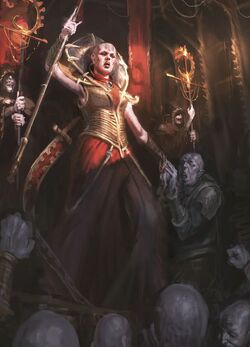 A Magus, also called a Genestealer Magus, is a Genestealer hybrid who has developed the abilities of a psyker. A Magus serves as their Genestealer Cult's primary enforcer, propagandist and diplomat to those outside of the cult. They possess psychic abilities second in potency only to those of their cult's Genestealer Patriarch.
Role
Maguses are psychically gifted and possessed of a supernatural charisma. Their control of the Genestealer hybrids and Brood Brothers around them is total. As the prophet of their Patriarch, the word of a Magus is law for those of their cult, and their telepathic abilities are more than powerful enough to enforce it.
Yet for all their commanding presence, intelligence and mental skill, each Magus is no more than an extension of the Patriarch's will through the cult's Broodmind, just as the Patriarch is an embodiment of the wider Tyranid Hive Mind.
A given cult gene-sect's Magus is its foremost link to the Imperial aristocracy, government and institutions of a world. Should the dynasty find its expansion stymied by a Planetary Governor or other strong-minded rival, a Magus may well visit the obstinate individual in person, using honeyed words and their psychic powers to either force their obedience or convert them to the cause.
In moments the deed is done, and the cult has a highly placed agent instead of a difficult adversary. The web of influence woven by a Magus ensnares all levels of Imperial society, from the upper echelons of the spire-born classes to street-level Adeptus Arbites enforcers, and even the ranks of the Astra Militarum.
A Magus is born of at least one Warp-touched parent who is already a psyker. Should an infested world harbour psychically gifted individuals of the right mental calibre, the cult's Purestrain Genestealers will sniff them out and psychically hypnotise them, then infect them with the "Genestealer's Kiss." Soon enough, one of these hosts will father or give birth to a Magus.
Tall, clean of limb and with an imposing presence, a Magus can pass for a normal human and commands respect wherever they walk. In their soul, however, they are as much a creature of the void as a member of Mankind. They hold the same otherworldly power in their eyes as the Patriarch they call lord and saviour, and are bound by the same unearthly drive to spread the cult far and wide.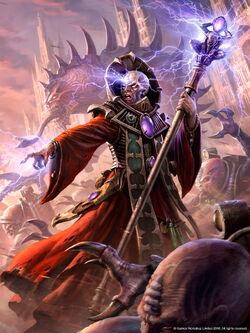 It is the Magus who speaks for their hidden organisation in matters both mystical and spiritual, and in many ways they are the true mastermind behind the spread of the cult across its host planet and beyond.
Burgeoning Genestealer Cults will usually have only one of these psykers at their heart, the guiding hand of the uprising. As the insurrection swells and spreads across the surface of a planet, new sites ripe for infection are located, and new gene-sects of the cult founded.
As these brood cycles grow anew, other Maguses are born who oversee these distant regions, and the cells that operate within them. These powerful bioforms often fancy themselves rivals of their peers on the same world, believing that their gene-sire favours only one of their number as his high prophet.
They seek to outdo one another with ambitious acts of infamy and subversion. This is but an elaborate overture, of course, for their differences and festering grudges are immediately put aside when the cult's uprising begins. Any illusion of autonomy fades away, and the Maguses work in perfect concert to achieve their Patriarch's desires and unknowingly pave the way for the coming of the Tyranids.
When the hour of ascension arrives, a Magus will lead the faithful of their gene-sect to battle, unleashing the full, terrible might of their psychic powers. Where once their hypnotising gaze was employed to dominate obstinate rivals and ultimately sway them to the cult's cause, now it is used to pit their enemies against one another.
Unable to resist the spellbinding influence of the Magus, blank-eyed Imperial soldiers turn their guns upon their comrades, slaughtering them with robotic indifference. Entire squads of enemy warriors are left stumbling and dazed by waves of disorienting psychic energy, unable to react as the cult's biomorph-equipped shock troops barrel into their ranks.
Broodmind Psychic Powers
The Genestealer Patriarch and Magus are potent psykers, able to use their formidable powers to bend others to their will. This mental dominance not only ensures that the gestalt consciousness of the cult's masses serves as one, but can also be channelled to crush those who would oppose their plans before they reach fruition. The powers that a Patriarch or Magus can wield include the following abilities.
Notable Maguses
Wargear
Sources
Gallery
Community content is available under
CC-BY-SA
unless otherwise noted.