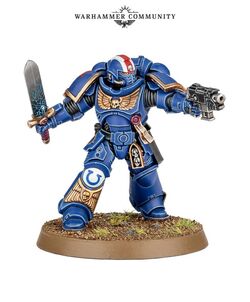 Lieutenant is an officer rank first found amongst the formations of the Primaris Space Marines, then later expanded to include the Firstborn. In the wake of the resurrection of the Primarch Roboute Guilliman in 999.M41 and his revisions to the Codex Astartes, the rank has been introduced to all the Chapters of the Adeptus Astartes since the start of the Indomitus Crusade. A lieutenant serves as a demi-company leader, with two assigned per full company of 100 Space Marines.
Lieutenants act as the right hands of their captains by providing flexibility and helping to direct their battle-brothers in engagements. Space Marine Battle Companies are frequently divided into two Battle Demi-companies of 50 Astartes each in order to spread their forces across multiple combat zones. In most Chapters, command of each demi-company falls to a lieutenant, who leads his brothers unflinchingly into battle.
Some Space Marine Chapters assign additional roles for lieutenants. The Salamanders, for example, have given these warriors a ceremonial duty as bodyguards to their company's captain, the three fighting as one.
Within the Iron Hands Chapter they are charged as naysmiths, questioning their captain's battle plans so as to probe for Human errors within his logic.
Unit Composition
Lieutenant Wargear
Primaris Lieutenant Wargear
If a Primaris Lieutenant is wearing Mark X Phobos Power Armour, the wargear available changes as follows:
If a Primaris Lieutenant serves as a Reiver, the wargear available changes as follows:
Battle Leader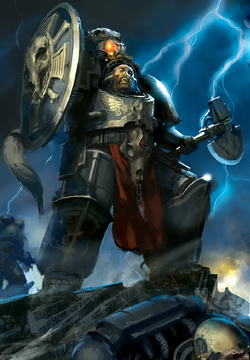 A battle leader is an officer rank of the Space Wolves Chapter equivalent to that of lieutenant in Codex Astartes-compliant Chapters. Aside from choosing their personal bodyguards among their Wolf Guard, a Wolf Lord also selects from amongst their Great Company a pair of veteran warriors; champions of renown to act as mentors for the younger and less-experienced Space Wolves. Possessed of battlefield experience, tactical acumen, preternatural talent or some combination of these attributes, they make excellent role models.
Often, the two battle leaders in a Great Company will have complementary natures -- a fiery, passionate warrior may be teamed with a cool, calculating tactician. Battle leaders with an overabundance of charisma or dominant personality are assigned to lead several packs of Space Wolves and guide them in the arts of war.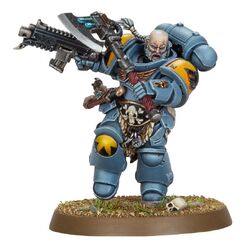 The most heroic battle leaders, typically those judged by their Wolf Lord as born to the role of command, are sometimes assigned the control of an entire Space Wolves strike force. Should such a battle leader prove himself capable of excelling above and beyond his liege's high expectations, he may find himself next in line when his Wolf Lord finally passes into legend. Battle leaders have traditionally been drawn from the warriors of the Wolf Guard.
Upon gaining this honour, some Wolf Guard battle leaders adopt new wargear better suited to their position as the alpha of several Space Wolf packs (squads). Some even take a Thunderwolf as a mount, particularly those in the Deathwolves. In recent times battle leaders of the Chapter have also been drawn from packs of Primaris Space Marines. These warriors, though relatively new to the Great Companies in the Era Indomitus, have already proven their worth on countless battlefields.
Unit Composition
Wolf Guard Battle Leader Wargear
Primaris Battle Leader Wargear
Wolf Guard Battle Leader Terminator Wargear
Wolf Guard Battle Leader on Thunderwolf
Sources
Gallery