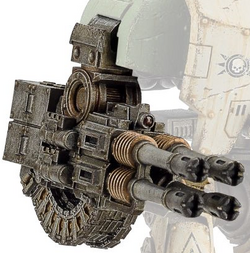 A Leviathan Storm Cannon is a heavy ranged ballistic weapon usable by Imperial Leviathan Pattern Siege Dreadnoughts.
Similar in design and function to the ubiquitous Autocannon, the Storm Cannon is a quad-linked rapid-firing weapon, purpose-built to scythe down infantry and clear out the defenders of tactical objectives.
Sources
The Horus Heresy - Book Six: Retribution (Forge World Series) by Alan Bligh
Gallery
Community content is available under
CC-BY-SA
unless otherwise noted.