(6 intermediate revisions by 3 users not shown)
Line 1:
Line 1:
 

[[File:IF-Command-1.jpg|thumb|250px|Part of an [[Imperial Fists]] Legion Command Squad]]

 

[[File:IF-Command-1.jpg|thumb|250px|Part of an [[Imperial Fists]] Legion Command Squad]]

−

A '''Legion Command Squad''' was a tactical formation of the ancient [[Space Marine Legions]] used during the [[Great Crusade]] and [[Horus Heresy]] eras in the late 30th and early 31st Millennia. The highly disciplined and worthy warriors of a Legion's Command Squad often accompanied Space Marine Commanders and Legion Champions serving as both bodyguards and [[Standard Bearer (Space Marine)|Standard Bearers]].

+

A '''Legion Command Squad''' was a tactical formation of the ancient [[Space Marine Legions]] used during the [[Great Crusade]] and [[Horus Heresy]] eras in the late 30th and early 31st Millennia.

 
+
 
+

The highly disciplined and worthy warriors of a Legion's Command Squad often accompanied Space Marine commanders and Legion champions serving as both bodyguards and [[Standard Bearer (Space Marine)|Standard Bearers]].

 

==History==

 

==History==

 

[[File:Apophis_Command_Squad.jpg|thumb|251px|A Command Squad of the [[Thousand Sons]] [[Legion]] during the [[Great Crusade]]]]

 

[[File:Apophis_Command_Squad.jpg|thumb|251px|A Command Squad of the [[Thousand Sons]] [[Legion]] during the [[Great Crusade]]]]

−

In the ancient ''[[Legiones Astartes]]'' it was a common sight to see senior Astartes commanders and champions accompanied in battle by a squad of elite warriors that served both as a bodyguard for their commander and were entrusted to carry one of the Legion's great standards. On the battlefield this made them a rallying point for the Legion's troops. These chosen Space Marines had access to the finest wargear available to the Legion's rank and file and embodied the Legion's honour in war.

+

In the ancient ''[[Legiones Astartes]]'' it was a common sight to see senior Astartes commanders and champions accompanied in battle by a squad of elite warriors that served both as a bodyguard for their commander and were entrusted to carry one of the Legion's great standards.

 
+
 
+

On the battlefield this made them a rallying point for the Legion's troops.

 
+
 
+

These chosen Space Marines had access to the finest wargear available to the Legion's rank and file and embodied the Legion's honour in war.

 
+
 
+

==Unit Composition==

 
+

*'''2 Space Marine Chosen'''

 
+

*'''1 Legion Standard Bearer'''

 
 
 

==Wargear==

 

==Wargear==

−

*'''[[Power Armour|Artificer Power Armour]]'''

+

*'''[[Artificer Armour]]'''

 

*'''[[Bolter]]'''

 

*'''[[Bolter]]'''

−

*'''[[Legion Vexilla and Standard]] (Legion Standard Bearers Only)'''

+

*'''Legion Vexilla and Standard (Legion Standard Bearers Only)'''

 

*'''[[Bolt Pistol]]'''

 

*'''[[Bolt Pistol]]'''

 

*'''[[Chainsword]] or combat blade'''

 

*'''[[Chainsword]] or combat blade'''

−

*'''[[Frag Grenade]]s and [[Krak Grenade]]s'''

+

*'''[[Frag Grenade]]s

 
+

*'''[[Krak Grenade]]s'''

 
 
 

===Special Option (Terminator Bodyguard)===

 

===Special Option (Terminator Bodyguard)===

−

*'''[[Terminator Armour]] or Cataphractii Armour'''

+

*'''[[Terminator Armour]] or Cataphractii Armour'''

−

*'''[[Storm Bolter|Combi-Bolter]]'''

+

*'''[[Combi-]]'''

 

*'''[[Power Weapons|Power Weapon]]'''

 

*'''[[Power Weapons|Power Weapon]]'''

 

*'''[[Heavy Flamer]]'''

 

*'''[[Heavy Flamer]]'''

 

*'''[[Reaper Autocannon]]'''

 

*'''[[Reaper Autocannon]]'''

−

*'''Plasma Blaster'''

+

*'''Plasma Blaster'''

 

*'''[[Power Fist]]'''

 

*'''[[Power Fist]]'''

−

*'''[[Lightning Claw]] or Pair of Lightning Claws'''

+

*'''[[Lightning Claw]]'''

 

*'''[[Chainfist]]'''

 

*'''[[Chainfist]]'''

 

*'''[[Thunder Hammer]]'''

 

*'''[[Thunder Hammer]]'''

−

*'''Grenade Harness'''

+

*'''Grenade Harness'''

 
 
 

===Optional Wargear===

 

===Optional Wargear===

 

*'''Melta Bombs'''

 

*'''Melta Bombs'''

 

*'''[[Combat Shield]]'''

 

*'''[[Combat Shield]]'''

−

*'''[[Chain Weapons|Heavy Chainsword]]'''

+

*'''[[|Heavy Chainsword]]'''

 

*'''Charnabal Sabre'''

 

*'''Charnabal Sabre'''

 

*'''[[Power Weapon]]'''

 

*'''[[Power Weapon]]'''

 

*'''[[Power Fist]] or [[Lightning Claw]]'''

 

*'''[[Power Fist]] or [[Lightning Claw]]'''

 

*'''[[Plasma Pistol]]'''

 

*'''[[Plasma Pistol]]'''

−

*'''[[Volkite|Volkite Charger]]'''

+

*'''[[Volkite Charger]]'''

 

*'''[[Jump Pack]]'''

 

*'''[[Jump Pack]]'''

 

*'''[[Space Marine Bike]]'''

 

*'''[[Space Marine Bike]]'''

Line 40:
Line 51:
 
 
 

==Sources==

 

==Sources==

−

*''Imperial Armour - The Horus Heresy Betrayal - Book One'', pp. 192-193

+

*''The Horus Heresy - Book One'', pp. 192-193

−

*[http://www.forgeworld.co.uk/New_Stuff/IMPERIAL_FISTS_LEGION_COMMAND.html ''Forge World - Imperial Fists Legion Command Squad'']

+

*[http://www.forgeworld.co.uk// ''Forge World - Imperial Fists Legion Command Squad'']

 
+

*[https://www.forgeworld.co.uk/en-NZ/Sons-of-Horus-Legion-Command ''Forge World - Sons of Horus Legion Command Squad'']

 
+

*[https://www.forgeworld.co.uk/en-NZ/Legion-MKII-Command-Upgrade ''Forge World - Legion Mk II Command Upgrade Set'']

 
+

*[https://www.forgeworld.co.uk/en-NZ/Legion-MKIII-Command-Upgrade-Set ''Forge World - Legion Mk III Command Upgrade Set'']

 
+

*[https://www.forgeworld.co.uk/en-NZ/Legion-MKIV-Command-Upgrade-Set ''Forge World - Legion Mk IV Command Upgrade Set'']

 
+

*[https://www.forgeworld.co.uk/en-NZ/Legion-MKVI-Command-Upgrade-Set ''Forge World - Legion Mk VI Command Upgrade Set'']

 

[[Category:L]]

 

[[Category:L]]

 

[[Category:History]]

 

[[Category:History]]

Line 47:
Line 63:
 

[[Category:Imperium]]

 

[[Category:Imperium]]

 

[[Category:Space Marines]]

 

[[Category:Space Marines]]

 
+

[[Category:Horus Heresy]]
---
Latest revision as of 03:31, 10 March 2020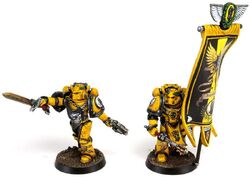 A Legion Command Squad was a tactical formation of the ancient Space Marine Legions used during the Great Crusade and Horus Heresy eras in the late 30th and early 31st Millennia.
The highly disciplined and worthy warriors of a Legion's Command Squad often accompanied Space Marine commanders and Legion champions serving as both bodyguards and Standard Bearers.
History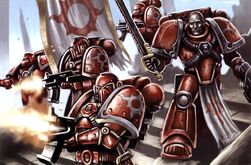 In the ancient Legiones Astartes it was a common sight to see senior Astartes commanders and champions accompanied in battle by a squad of elite warriors that served both as a bodyguard for their commander and were entrusted to carry one of the Legion's great standards.
On the battlefield this made them a rallying point for the Legion's troops.
These chosen Space Marines had access to the finest wargear available to the Legion's rank and file and embodied the Legion's honour in war.
Unit Composition
Wargear
Special Option (Terminator Bodyguard)
Optional Wargear
Sources