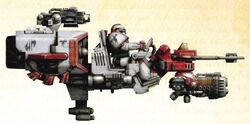 The Land Speeder Proteus is an ancient variant of the standard Land Speeder that was deployed by the Space Marine Legions during the Great Crusade and Horus Heresy eras.
It was a particular favorite variant of the White Scars Legion.
Mainstays of most Space Marine Legion armouries, Land Speeders are high-speed reconnaissance and rapid attack skimmers that utilise anti-gravity technology to achieve extraordinary battlefield mobility and speed.
As lightly armoured two-man craft, they require the kind of skill and reflexes to operate at peak performance that only a Space Marine can bring to bear, and rely more on their extreme manoeuvrability and speed for survival than durability.
Land Speeder squadrons provide a Space Marine force with a flexible core of rapidly deployable firepower and make for highly able tank hunters and close air support units.
As a result, mixed formations of Land Speeders are often called upon to operate as a rapid reaction force, held in reserve to quickly intercept enemy counter-attacks.
Relic versions of the Land Speeder Proteus are rarely if ever seen in the late 41st Millennium.
Wargear
The Land Speeder Proteus could be armed with multiple weapon configurations. These included one of two of the following weapons:
Adeptus Mechanicus Technical Specifications
The Adeptus Mechanicus has not yet released the technical details of the Land Raider Proteus to the public.
Sources
Gallery
Community content is available under
CC-BY-SA
unless otherwise noted.