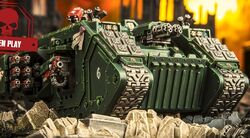 The Land Raider Solemnus Aggressor is a variant of the standard Land Raider main battle tank that was created and used by the Dark Angels Chapter.
It differed from the standard Land Raider only in being armed with a twin-linked Assault Cannon, 2 Heavy Bolters and 2 Hurricane Bolters.
This armament gives the Solemnus Aggressor the firepower to shatter an infantry advance in a single volley.
Adeptus Mechanicus Technical Specifications
The Adeptus Mechanicus has no technical specifications available for this vehicle.
Sources
Chapter Approved 2017 (7th Edition), "Land Raiders," pg. 28
Community content is available under
CC-BY-SA
unless otherwise noted.