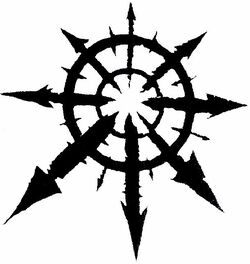 The Land Raider Hades Diabolus is a variant of the Chaos Land Raider that was created by the Black Legion in the Era Indomitus and first faced Imperial military forces in the region of the Cadian Gate after the fall of Cadia itself during the 13th Black Crusade. Since then, its design has spread to many other Chaos forces.
The Land Raider Hades Diabolus was designed to serve as a powerful anti-personnel tank and it bristles with mid-to-long-range anti-infantry weaponry.
With these armaments it can unleash a withering hurricane of weapons fire that shreds units of enemy infantry to a bloody pulp in only seconds and can even reduce artillery, combat walkers and light tanks to heaps of useless wreckage.
Wargear
Ordo Malleus Departmento Analyticus Technical Specifications
The Ordo Malleus had not made available any technical specifications for the Land Raider Hades Diabolus.
Sources
Chapter Approved 2017 (8th Edition), pp. 23, 29
Community content is available under
CC-BY-SA
unless otherwise noted.