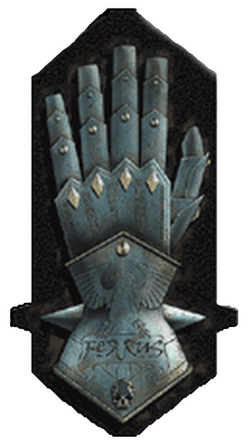 The Land Raider Anvilarum is a variant of the standard Land Raider Phobos of the Adeptus Astartes. The Land Raider Anvilarum is used soley by the Iron Hands Chapter. The Anvilarum Pattern of the Land Raider is an open-topped, uplink-modified, heavily-armoured transport that was large enough to ferry an Iron Father Dreadnought to war, including its Tech-priest attendants.
The vehicle's design was reminiscent of the chariots of ancient Aegypt or the Roma, with the rear hold capable of carrying multiple passengers who were able to disembark easily over the vehicle's sides and rear. The Land Raider Anvilarum is armed with a Quad Lascannon, which was under the direct neural control of its driver. The vehicle's Adamantium-slabbed sides featured ramparts for infantry carried within to engage the enemy from the relative safety of the vehicle.
Sources
The Eye of Medusa (Novel) by David Guymer, Chs. 7, 11-13
Community content is available under
CC-BY-SA
unless otherwise noted.