The Ork Kill Kroozer is as close to a "standard" type of cruiser as Orks get. Usually based on the hulks of destroyed Imperial and Chaos Cruisers, Kill Kroozers are protected by heavy prow armour and primarily armed with lots of Gunz and Heavy Gunz, with some also adding Torpedo Launchas to their arsenal.
Kill Kroozers were a major threat to shipping in the Gothic Sector even during peacetime, and their numbers only grew during the Gothic War, presumably due to all of the starship hulks left over from the battles between Imperial and Chaos forces.
Kill Kroozers also made up a large portion of the Warlord Ghazghkull Mag Uruk Thraka's armada during the Third War for Armageddon, and as such saw action in virtually every fleet engagement of the war. They were especially pivotal during the Battle of Pelucidar when a squadron of Kill Kroozers crippled and boarded the Apocalypse-class Battleship Triumph.
Notable Kill Kroozers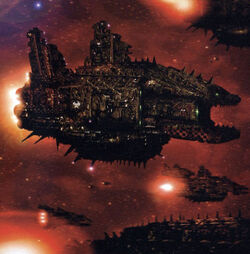 Dimensions
Hull: Varies; 4.5 kilometres long approximately, 1.1 kilometres abeam approximately
Class: Ork "Kroozer" designation -- typically either "Kill Kroozer" or "Terror Ship"
Mass: Approximately 30 megatonnes
Acceleration: 2.7 gravities maximum sustainable acceleration
Sources
Battlefleet Gothic Rulebook, pg. 136
Battlefleet Gothic Armada (PC Game) (Images)
Battlefleet Gothic Resources: Imperial Fleets, pg. 19
Codex: Militarum Tempestus (6th Edition), pp. 36-37
Rogue Trader: Battlefleet Koronus (RPG), pp. 79, 83
Rogue Trader: The Frozen Reaches (RPG), pg. 68
Rogue Trader: Twilight Crusade (RPG), pg. 119
Gallery