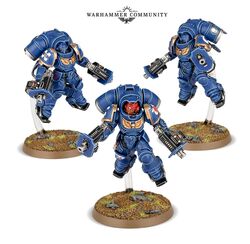 An Inceptor, who is usually part of an Inceptor Squad, is the standard Jump Pack-equipped heavy assault unit of the Primaris Space Marines who wear the Mark X Gravis Pattern variant of Mark X Tacticus Power Armour and wield twin Assault Bolters into combat. Inceptors are similar in combat function to an Assault Squad of standard Astartes or a Legion Assault Squad of ancient Astartes Legionaries.
Wargear
See Also
Sources
Dark Imperium (Novel) by Guy Haley
Community content is available under
CC-BY-SA
unless otherwise noted.