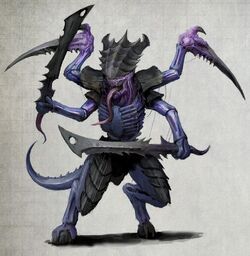 A recent tendril of the Tyranid invasion, Hive Fleet Hydra drifts along in the wake of Hive Fleet Leviathan, seeking out defeated splinters of previous Hive Fleets in order to cannibalise them and absorb their genetic memory. The Hydra is a relatively minor Hive Fleet that some Imperial reports indicate was first detected entering the galaxy at its eastern extremes or from the galactic south; the discrepancy has not been resolved. Hive Fleet Hydra was prematurely awakened from its hibernation as it drifted through the intergalactic void towards the Milky Way Galaxy by Drukhari pirates who boarded several of the fleet's largest bio-ships in hopes of obtaining rare genetic specimens for the fleshcrafters of Commorragh.
While the Hydra appears to be relatively small in size compared to the larger Hive Fleets that fought the Tyrannic Wars, this impression is deceiving; it is still capable of unleashing vast hordes of bioforms, burying its prey under sheer weight of numbers.
When approaching a prey world, Hydra seeds its atmosphere with thousands upon thousands of spore clusters, each containing scores of dormant Hormagaunts and Termagants. When its initial invasion swarms encounter resistance, each slain organism releases a powerful synaptic pulse. Upon sensing this psychic death cry, the embedded spore clusters immediately release their living cargo. Instinctively these reinforcements converge upon the kill-signal, driven to a frenzy by the echo in their predatory consciousness. Thus, a single pack of slaughtered Gaunts swiftly becomes a cluster of swarming xenos bodies, which soon becomes a living tidal wave of chitin and flesh.
On several occasions Hive Fleet Hydra has swept into sectors of space that have only recently repelled a Tyranid assault, falling upon and consuming both weary survivors and the carcasses of fire-gutted bio-ships, before disappearing into the void once again. Whether Hydra's unnerving generative capacity is related to this pattern of feeding upon members of its own race is a subject of heated debate amongst Imperial scientists. Many experts, most notably the famed Magos Xenobiologis Echros Van-Zendrech, have theorised that this development may signal the next stage in the Tyranid invasion -- an autophagic cycle that will unleash a new, more resilient wave of Tyranid bioforms upon the fractured galaxy.
Hive Fleet History
There are seemingly no limits to the swarms that Hive Fleet Hydra can bring to bear against its prey. To do battle with this nightmare is to drown beneath a tide of surging xenos bodies.
Notable Campaigns
Sources
Codex: Tyranids (8th Edition), pg. 35
Codex: Tyranids (6th Edition), pg. 31
Codex: Tyranids (5th Edition), pg. 38
Warhammer 40,000: Rulebook (8th Edition), pg. 166
Warhammer 40,000: Rulebook (5th Edition), pg. 137
Community content is available under
CC-BY-SA
unless otherwise noted.