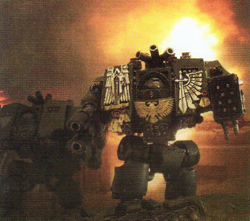 The Hellfire Dreadnought, also known as the Hellfire Pattern Dreadnought, is a common variant of the standard Mars Pattern Dreadnought combat walker used by the Space Marines of the Adeptus Astartes and their Chaos Space Marine counterparts. Dreadnoughts are cybernetic combat walkers that house the mortal remains of a fallen Space Marine hero, so that he may continue fighting for the Emperor and his Chapter even after his body has been crippled. Dreadnoughts are classified in several different ways, the most common of which is simply by their armament.
Standard Dreadnoughts are equipped with a long-range weapon such as an Assault Cannon in place of one of their arms and their other ends with a Dreadnought Close Combat Weapon, such as an enlarged Powerfist. The Hellfire Pattern Dreadnought sacrifices its close-range offensive weapon arm for a Missile Launcher, changing its battlefield role from one of close or medium-range heavy support to a long-range fire support role for infantry.
The Hellfire Dreadnought's Missile Launcher carries up to 8 Krak Missiles that are capable of causing severe damage to enemy vehicles, and unlike the Missile Launchers carried by Space Marine infantry, the Dreadnought is fully capable of firing accurately whilst moving. The Hellfire Dreadnought can use any weapon in the Astartes Armoury other than a Dreadnought Close Combat Weapon or another Missile Launcher as its other weapon arm. A Dreadnought using either of those two configurations will be classified as either a standard Furioso Dreadnought or a Mortis Dreadnought, respectively.
Armament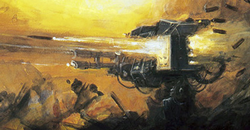 The Hellfire Dreadnought is always equipped with two long-range weapon arms, and one is always a Missile Launcher. The Hellfire Dreadnought's other weapon arm can be changed, depending on the needs of the Chapter when the Dreadnought is awoken for battle. These weapons can be an Assault Cannon, twin-linked Lascannons, twin-linked Autocannons, a Plasma Cannon, a Multi-Melta, or twin-linked Heavy Bolters.
Due to the fact that the Hellfire Dreadnought gives up both of its standard grasping arms for weapons it is unable to carry any smaller weaponry that would normally be located on the bottom or inside of one or both of its arms. The Hellfire Dreadnought, like most other Dreadnoughts, can be outfitted with extra armour plating for added protection along with smoke launchers and a searchlight for additional battlefield utility.
Unit Composition
Wargear
A standard Hellfire Dreadnought is armed and equipped with:
Any Hellfire Dreadnought may replace their set of twin-linked Autocannons with any of these options:
Hellfire Dreadnoughts may also have a variety of vehicle equipment such as:
Notable Variants
The Dreadnought chassis is such a versatile weapons platform and overall potent war machine that even its variants are known to have seprate patterns depending on their Chapter of origin and their battlefield function. The following are known variants of the Dreadnought that can make use of the Hellfire Pattern: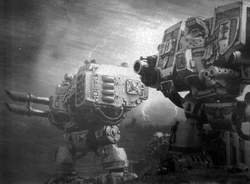 Known Hellfire Dreadnoughts
The following list contains known Dreadnoughts that are or have at one time been classified as Hellfire Dreadnoughts:
Notable Users of the Hellfire Dreadnought
The following list contains known users of the Hellfire Dreadnought pattern:
Adeptus Mechanicus Technical Specifications
Hellfire Pattern Dreadnought Mark V
Vehicle Name:
Hellfire Dreadnought Mk V
Main Armament:
Weapon Arm-mounted twin-linked Lascannons
Forge World of Origin:
Mars
Secondary Armament:
Weapon Arm-mounted Missile Launcher
Known Patterns:
I - XXVI
Traverse:
360 degrees
Crew:
1 Pilot
Elevation:
-90 to 90 degrees
Powerplant:
Thermic Reactor
Main Ammunition:
100 Shots from power pack
Weight:
12 Tonnes
Secondary Ammunition:
8 Missiles
Length:
2.2 metres
Armour:
Width:
3.4 metres
Height:
3.7 metres
Superstructure:
75 millimetres
Ground Clearance:
N/A
Hull:
75 millimetres
Max Speed On-Road:
10 kilometres per hour
Gun Mantlet:
N/A
Max Speed Off-Road:
5 kilometres per hour
Vehicle Designation:
8681-756-0115-DR 035
Transport Capacity:
N/A
Firing Ports:
N/A
Access Points:
N/A
Turret:
N/A
Hellfire Pattern Dreadnought Mark IV
Vehicle Name:
Hellfire Dreadnought Mk IV
Main Armament:
Weapon Arm-mounted twin-linked Heavy Bolters
Forge World of Origin:
Mars, Incaladion
Secondary Armament:
Weapon Arm-mounted Missile Launcher
Known Patterns:
I - V
Traverse:
360 degrees
Crew:
1 Pilot
Elevation:
-90 to 90 degrees
Powerplant:
Thermic Reactor
Main Ammunition:
2,000 Rounds
Weight:
11 Tonnes
Secondary Ammunition:
8 Missiles
Length:
2.2 metres
Armour:
Width:
3.4 metres
Height:
3.7 metres
Superstructure:
75 millimetres
Ground Clearance:
N/A
Hull:
75 millimetres
Max Speed On-Road:
8 kilometres per hour
Gun Mantlet:
N/A
Max Speed Off-Road:
5 kilometres per hour
Vehicle Designation:
8681-756-0115-DR 041
Transport Capacity:
N/A
Firing Ports:
N/A
Access Points:
N/A
Turret:
N/A
See Also
Sources
Gallery