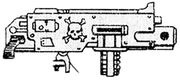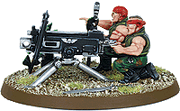 The Heavy Bolter is a bolt weapon that is used for anti-infantry and fire support roles and is known as the "Backbreaker" or the "Bruiser" because of its great weight and the amount of damage it can deal. Unlike the Boltgun it is relatively common in Imperial Guard armies and is also often used by the Space Marines. It has a high rate of fire and Heavy Bolters are relatively cheap to field. Heavy Bolters are used on main battle tanks and a wide variety of other Imperial vehicles as an anti-personnel weapon as well as an anti-infantry weapon on fixed defences like Imperial fortifications. Due to its size and weight, it is operated by a two man team in the Imperial Guard - either by a Heavy Weapon Squad where it is fitted to a mobile mount or alternatively it is carried by one trooper while the other carries the weapon's ammunition. Its anti-infantry fire support role in an Imperial Guard unit is reminiscent of the same one once played by the World War II-era Browning .30 caliber machine gun, however the Heavy Bolter is a much heavier weapon. A Space Marine, being much stronger than a normal man and having the added strength provided by his Power Armour, can carry both the Heavy Bolter and its ammunition in a specially designed pack. Space Marine Scouts can also carry Heavy Bolters and this is especially useful when supplying extra fire support for Scout Marine sniper teams as it matches the sniper's own weapons range.
The Heavy Bolter fires a larger slug than the standard Bolter (possibly 1 inch caliber), and uses the same gyro-stabilizing technology as the standard Bolter's shells. It can also be fitted with suspensors by Deathwatch Kill-Teams, allowing it to be fired on the move, however, this drastically reduces its range and is a very rare modification, so it is currently only available to the Deathwatch.
The Heavy Bolter sees use with all aspects of the Imperial military, including the Imperial Guard, Space Marines, Sisters of Battle, the Deathwatch, and all three ordos of the Inquisition.
Sources
Warhammer 40,000: Wargear (2nd Edition)
Warhammer 40,000 Wargear (4th Edition)
Codex: Space Marines (4th Edition)
Codex: Space Marines (5th Edition)