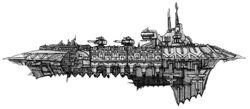 Once a design considered suitable to serve as the backbone of an Imperial Battlefleet, the Chaos Hades-class Heavy Cruiser is an exceptionally dangerous and well-armed vessel, a dire threat to any ship of the line. Hades-class Heavy Cruisers can put out a devastating amount of firepower at long range, including dual banks of lances and heavy clustered weapons batteries on each broadside.
It is suspected that the Hades-class contains certain non-Euclidian quirks of architecture, perhaps placed deliberately by its corrupted planners, that inexorably lead towards madness and worshiping daemonic entities of the Warp. Whatever the truth, it is well-known that this heavy cruiser is often found serving at the forefront of Traitor battle formations.
Notable Hades-class Heavy Cruisers
Dimensions
Hull: Heavy Cruiser
Class: Hades-class
Dimensions: Approximately 5.2 kilometres long, .8 kilometres abeam.
Mass: Approximately 33.5 Megatonnes.
Crew: Approximately 130,000 crew.
Acceleration: 2.4 Gravities maximum acceleration.
Sources
Battlefleet Gothic Rulebook (Blue Book), pg. 121
Rogue Trader: Battlefleet Koronus (RPG), pg. 109
Rogue Trader: Fallen Suns (RPG), pg. 70
Codex: Astra Militarum (7th Edition), pg. 22
Community content is available under
CC-BY-SA
unless otherwise noted.