"I am the Hammer. I am the sword in His hand. I am the Gauntlet about His fist. I am the Bane of His foes and the woes of the treacherous. I am the End."


— Attributed to Justicar Tancred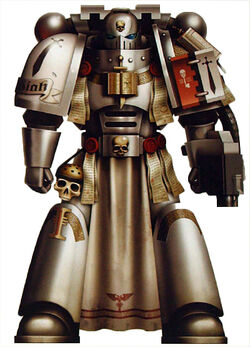 A Grey Knights Justicar is a rank held by squad leaders that is unique to the Grey Knights Space Marine Chapter. The first rank above a Grey Knights Battle-Brother, a Justicar is the equivalent of the Space Marine Sergeant found in Codex Astartes-compliant Chapters.
Holding this command is the first step on the path for a Grey Knight to become a Grand Master of the Chapter. Justicars can also lead Grey Knights Terminator Squads, although such officers are usually referred to as a "Brother-Captain" rather than a Justicar. Unlike the lower ranks in the Grey Knights, a Justicar is permitted to wear his own personal heraldry as a sign of his position as a squad leader.
Wargear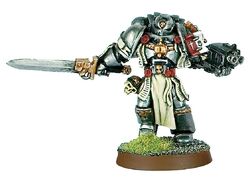 Psychic Powers
Hammerhand - Focusing the raging power of their minds, Grey Knights can augment their already prodigious might. Even unarmed, such a warrior can crush flesh and bone in close combat -- given blade or warhammer there is little limit to what they can slay.
Notable Grey Knights Justicars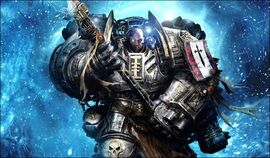 Sources
Codex: Grey Knights (5th Edition), pg. 29
Codex: Daemon Hunters (3rd Edition), pg. 7
Imperial Armour Volume Seven - The Siege of Vraks - Part Three, pg. 101
The Inquisition: Illustrated Guide (Background Book), pg. 52
Grey Knights (Novel) by Ben Counter, Ch. 1
The Hammer of Daemons (Novel) by Ben Counter
The Emperor's Gift (Novel) by Aaron Demski-Bowden
The Killing Ground (Novel) by Graham McNeill
White Dwarf Weekly 87 (September 2015), "Daemons of Khorne - Skarbrand the Bloodthirster"
Community content is available under
CC-BY-SA
unless otherwise noted.