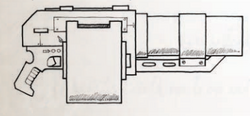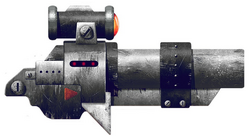 A Grenade Launcher serves the role of a launcher weapon that can be used and carried by a single un-augmented human. Unlike Missile Launchers, the explosive projectiles fired from a Grenade Launcher are not self-propelled, instead taking a ballistic trajectory once fired. The grenades are typically equipped with either Frag or Krak warheads, although Grenade Launcher projectile warheads are smaller and less powerful than the Missile Launcher warhead equivalents.
Grenade Launchers are used most commonly by the Astra Militarum, although Inquisitorial Storm Troopers, Adeptus Arbites and Adeptus Astartes units are also known to use them. Grenade Launchers can fire a variety of grenade types but generally at a shorter range than other basic weapons due to the heavier nature of their payload. Unlike most weapons they can be fired in arcing shots designed to clear obstructions and strike farther into an enemy formation as well as simply being fired directly at foes. The common Voss Grenade Launcher holds a magazine of six grenades, but most find the weapon inaccurate even for a launcher. The Forge World of Mezoa produces what many believe is a superior shoulder-mounted weapon with a longer range, for though it is a single-shot device it has superior firing systems and is highly accurate.
Notable Variants
Sources
Codex Adeptus Astartes - Space Marines (8th Edition), pp. 77, 87, 112, 140
Codex: Deathwatch (7th Edition), pp. 45, 104
Codex: Space Marines (7th Edition) (Digital Edition), "Armoury of the Space Marines - Ranged Weapons - Astartes Grenade Launcher", pg. 426
Codex: Space Marines (6th Edition) (Digital Edition), pg. 413
Dark Heresy: Core Rulebook (RPG), pg. 136
Dark Heresy: The Inquisitor's Handbook (RPG), pg. 174
Deathwatch: Core Rulebook (RPG), pg. 152
Imperial Armour Volume One - Second Edition: Imperial Guard, pg. 228
Imperial Armour Volume Three - The Taros Campaign, pp. 80, 112, 272
Imperial Armour Volume Four - The Anphelion Project, Pg. 136
Imperial Armour Volume Five - The Siege of Vraks - Part One, pg. 95
Imperial Armour Volume Eleven - The Doom of Mymeara, pg. 101
Imperium Munitorum Manual (Background Book) by Graham McNeill, pg. 74
Only War: Hammer of the Emperor (RPG), pg. 114
Rogue Trader: Core Rulebook (RPG), pg. 125
The Horus Heresy - Book Two: Massacre (Forge World Series) by Alan Bligh, pg. 227
The Horus Heresy - Book Four: Conquest (Forge World Series) by Alan Bligh, pp. 154, 247
The Horus Heresy - Book Five: Tempest (Forge World) by Alan Bligh, pg. 180
Warhammer 40,000: Rogue Trader (1st Edition), pg. 84
Warhammer 40,000: Wargear (2nd Edition), pp. 21, 25
Gallery
Community content is available under
CC-BY-SA
unless otherwise noted.