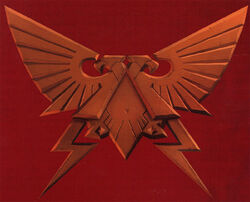 Presented below is the Great Crusade Chronology, an exhaustive listing of all known campaigns that occurred during the nearly two standard-centuries-long Great Crusade that began in 798.M30 and ended with the outbreak of the galaxy-wide Horus Heresy in the early years of the 31st Millennium.
At its height, the great expansion of the newborn Imperium of Man consisted of 4,287 primary Expedition Fleets engaged upon the business of enforcing Imperial Compliance and extending the Imperial aegis across the galaxy, as well as 60,000+ secondary deployment groups involved in regulating Compliance or Imperial occupations.
By no means is this list complete, as much of the information presented in various canon sources is often ambiguous and even at times contradictory. Therefore, this is merely a rough guide to the chronological order of the events of the Great Crusade as they occurred.
Chronology
Presented below is a chronological listing of the events of the Great Crusade. The following information was compiled by manifold and diverse hands at the order of Emperor and the Acting Council of Terra.
The reader should be aware that the dates listed in this chronological compilation are only approximations as Imperial records from this time are too fragmentary to be wholly reliable. As more information is uncovered in newly discovered Imperial records, it will be added to the chronology.
Late 700s-800s.M30
900s.M30
Early M31
Videos
Sources