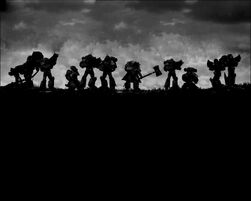 The First Founding of the Space Marine Legions, also originally called the Legiones Astartes, occurred in the late 30th Millennium after the end of the Age of Strife and the Unification Wars that founded the Imperium of Man on Terra. Eighteen known Space Marine Legions were created from the gene-seed of the 18 known Primarchs engineered by the Emperor of Mankind from his own genetic code in his laboratory in the Imperial Palace on Terra beneath the Himalayan Mountains. In spite of the fact that the Primarchs were separated from the Emperor of Mankind through the mysterious actions of the Ruinous Powers of Chaos and scattered through the Warp across the galaxy, he managed to keep a small sample of each Primarch's gene-seed, and use this genetic material to create the first Space Marines by further genetically enhancing his own elite, Terran-born soldiers. With each Primarch the Emperor re-discovered during the Great Crusade, he gave command of the Space Marine Legion created from their genetic material back to them. Each Primarch then set up their Legion's headquarters on his homeworld, from which they also recruited new Space Marines into the Legion. Two other Legions, the II Legion and the XI Legion and their Primarchs, were created by the Emperor, but nothing is known of what became of these Legions and their Primarchs and all data pertaining to them has been deleted from current Imperial records.
First Founding Space Marine Legions
Sources
Codex: Space Marines (5th Edition)
Codex: Chaos Space Marines (4th Edition)
Imperial Armour - The Horus Heresy - Book One: Betrayal, pp. 26-32
Warhammer 40,000 Compendium (2nd Edition), "Chapter Approved: The Origin of the Legiones Astartes," pp. 6-10
Warhammer 40,000 Rogue Trader (1st Edition), "The Legiones Astartes," pp. 153-161
Warhammer 40,000 Rulebook (6th Edition)
Warhammer 40,000 Rulebook (5th Edition)
White Dwarf 166 (US), "Space Marines: Codex Imperialis Extract - Legions of Adeptus Astartes," pp. 8-19
Community content is available under
CC-BY-SA
unless otherwise noted.