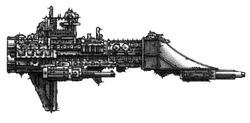 The Imperial Firestorm-class Frigate is a relatively recent creation within the Imperial Navy's Battlefleet Obscurus, designed to combine the manoeuverability of an Escort-sized warship with the firepower of Lance armaments. To achieve this, the Firestorm is based on the hull of the Sword-class Frigate with a major reworking of the Sword's laser battery cores to direct power towards a single, massive starship-grade Lascannon mounted on the prow. The Firestorm's design was an overall success, but only five squadrons' worth could be fielded by the Imperial Navy during the Gothic War.
Notable Firestorm Squadrons
Dimensions
Hull: Escort
Class: Firestorm-class Frigate.
Dimensions: Approximately 1.8 kilometres long, 0.3 kilometres abeam at fins.
Mass: Approximately 6 megatonnes.
Crew: Approximately 25,000 crew.
Acceleration: 4.4 Gravities maximum sustainable acceleration.
Sources
Battlefleet Gothic Magazine 7, "Wolf Packs - Human Pirates in Battlefleet Gothic," pg. 20
Battlefleet Gothic Rulebook (Blue Book), pg. 113
Imperial Armour Volume Three - The Taros Campaign
Deus Encarmine (Novel) by James Swallow
Execution Hour (Novel) by Gordon Rennie
Rogue Trader: Into the Storm (RPG), pg. 152
Rogue Trader: Hostile Acquisitions (RPG), pg. 93
Community content is available under
CC-BY-SA
unless otherwise noted.