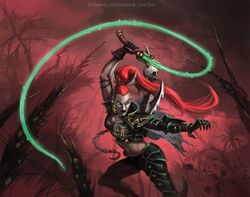 An Electrocorrosive Whip is a powerful Drukhari weapon that is similar to an Agoniser and is a lashing tongue of venom-soaked polymer with a high-yield electrical dynamo in its hilt. Its touch is painful and debilitating in the extreme, sapping the strength and robbing the will of the enemy to fight.
Sources
Codex: Drukhari (8th Edition), pg. 110
Codex: Dark Eldar (5th Edition), pg. 56
Community content is available under
CC-BY-SA
unless otherwise noted.