Eisenhorn is a series of novels and short stories by Dan Abnett, following the adventures of Inquisitor Gregor Eisenhorn. It originally debuted in 2001 alongside the release of Games Workshop's 54 millimetre model RPG game, Inquisitor. Eisenhorn was a named character in the game with his own model, as was his antagonist and ally, the Daemonhost Cherubael. No other characters from the game appear, but the types of characters in the game -- Arbiters, Rogue Traders, Deathwatch Space Marines, savants, Mechanicum Magi and so on, are featured as key characters in the series. Inspired by these and the content of the game, Abnett wrote the initial trilogy, with Xenos, the first novel, released at the same time as the game.
Creation
The series was pitched by Abnett when he was given material from the game in-development as inspiration for his Gaunt's Ghosts series of novels. As he explained in February 2016 to the Backwards Compatible podcast:
"I think I was 3 or 4 books into the Gaunt's series and just writing those and the then-head of the Black Library sent me a portfolio of photocopies and rules from the Inquisitor game that was going to be produced. This is obviously going back always. And he sent to me simply because he thought I might be interested in and inspired by the images in Gaunt. And it showed the detail – the elaborate detail – of imperial life. It was, and I have used it. But at the time I looked at it and leafed through it – it was half complete, as I said photocopies and bits and pieces, brilliant spot illustrations and stuff like that. And I rang him straight back up and said 'Can we not write a novel about this stuff rather than using it elsewhere because this is great!' And he said 'well, yeah, we can but we need to make it look deliberate rather than random. If we can get a novel together by the time the game comes out, I'll be able to get it past the people upstairs as part of an imaginary marketing strategy.' And so I did, and basically just wrote the first Eisenhorn novel, Xenos, I just wrote it in the sheer white fun of just writing it. I wouldn't go so far as to say I didn't know what I was doing or where the plot was going, but it was very much I have a basic idea and I'm just going to go for it. And I did, and it proved to be enormously successful to such the extent that the Eisenhorn books are regarded as a bit of a primer to get you into 40K."


— 'The AbnettCast', 2016-02-20, The Backwards Compatable Podcast. Retrieved on 2016-05-13
Abnett, in the Introduction to the omnibus of the series, also included other details, including the roles played by John Blanche and Inquisitor developer, Gav Thorpe: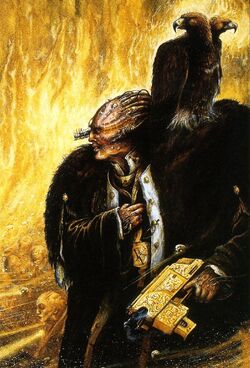 "There is a rather gorgeous painting that many of you, I'm sure, will be familiar with. It's called Inquisitor Tannenberg, it's by John Blanche, and it has been reproduced in various places, including the Inquis Exterminatus. Know the one? Guy with a scalp full of cables, a black fur coat, a double-headed eagle familiar on his shoulder, a gold-chased bolt pistol in his hand? Yes, it is good, isn't it? [...]
As soon as I opened the package and started leafing through, I could see what they meant. This was a rich seam indeed, full of wonderful baroque material. Among the pages, along with a number of other very fine pictures, was a copy of John Blanche's painting. And that was it. I picked up the phone, called Black Library and said, 'Can I please write about this?' Even though, truth be told, at that stage I didn't know exactly what 'this' was. I visited the Studio, and got great help and advice from the game developers, particularly Gav Thorpe. Then I got to work.
I think what inspired me about John's painting was the aristocratic clothing: the rich black velvet of the sleeves, the engraved gold of the elegant weapon. This wasn't about the battlefield, the front-line of mud and gas and behemoth engines. This was a glimpse behind the lines at the internal complexity of the Imperium. It offered a chance to explore what might be called the 'domestic' side of the Warhammer 40,000 universe: the daily, non-military, life – at work, at worship, at rest, at court, at slum-level. A chance to visit worlds that were not levelled by war, and see how the billions of Imperial citizens lived.
And also to find out what evils stalked them, even in the shadows of their own hive cities."


— Dan Abnett, 'Introduction', Eisenhorn Omnibus (2004)
Style and Content
The series is predominantly written in the first person, resulting in an unreliable narrator: at certain points in his career, Eisenhorn sets down accounts of his life. It is not clear if the novels and stories are written in the same period, after Hereticus, or are, as may be more likely, written intermittently during and after the events of the series. Despite his protestations, arguably the arc of the series is Eisenhorn's fall from a puritan outlook to that of a radical and rogue element of imperial society. Over the course of the novels, Eisenhorn loses almost all his friends and allies by not only using the tools of Chaos to fight and defeat Chaos, but by becoming blind to the danger of using them - seen in the change of his relationship to and ultimate dependence upon the daemonhost Cherubael.
The Series
The series was intially released as three novels with intermediary short stories; however the series is internally dated, and the following list puts the Eisenhorn texts in chronological order (all dates are drawn from the texts themselves):
"Master Imus's Transgression" (2011), audio and short story. Set when Eisenhorn is an Interrogator.
"Regia Occulta" (2011), audio and short story. Set in 223.M41
Xenos (2001), novel. Set in 240.M41.
"Missing in Action" (2002), short story. Set in 241.M41.
"Born onto Us" (2012), short story.
Malleus (2001), novel. Set in 343-345.M41.
"Backcloth For A Crown Additional" (2003), short story. Set in 355.M41.
"The Strange Demise of Titus Endor" (2010), short story. Set some time after Malleus.
Hereticus (2002), novel. Set in 386.M41.
Subsequent to the conclusion of Hereticus, Abnett wrote the Ravenor series of novels and short stories (published 2005-7 and set in the years following 400.M41), utilising several recurring characters from the Eisenhorn series. This series mixed first person narration by Ravenor with third person narration. Then in 2012 he published Pariah, the first novel of the Bequin series, subtitled 'Ravenor vs Eisenhorn'. This novel, narrated in the first person by Bequin, is set in the 480s.M41. Certain short stories intersect with these series:
'Thorn Wishes Talon' (2004), short story and later audio (2011). Set before Ravenor Returned, about 402.M41.
'Perihelion' (2012), short story. Set after Ravenor Rogue and before Pariah (Pariah is set after 500.M41). [1]
Covers
Adaptation
In 2014 it was announced that there would be a video game adaptation of Xenos, published by Pixel Hero Games. [2] The game will be eventually released in August 2016; it was first to be released on PC and later on mobile platforms, but a subsequent delay revealed that it will be released on all formats 10 August. [3] [4] Mark Strong voices Eisenhorn, and the game retains the first person mode of the novels through continuous narration. [5] The promotional trailer, released in 2016, shows the aged, mechanically-assisted Eisenhorn from the end of Hereticus, as if remembering back.
Sources
Eisenhorn Omnibus (2004), anthology of Xenos, 'Missing in Action', Malleus, 'Backcloth For A Crown Additional' and Hereticus, with a postnote by the author.
'Thorn Wishes Talon' (2004), short story, also published in the Ravenor Omnibus (2009) and later made into an audio drama (2011).
Ravenor Omnibus (Anthology)
The Strange Demise of Titus Endor (Short Story)
Thorn and Talon (2011), audio play anthology of 'Master Imus's Transgression', 'Regia Occulta' and 'Thorn Wishes Talon'.
Pariah (Novel)
Born onto us (Short Story)
Perihelion (Short Story)
Eisenhorn: Xenos (2016), video game adaptation of Xenos, by Pixel Hero Games.
References
Community content is available under
CC-BY-SA
unless otherwise noted.