"No place shall be denied to them, no enemy shall bar their way. They shall be proud of heart and stoic of spirit. They shall be measured and wise, yet their hatred shall burn with such heat that their enemies wither and die before them. They shall be masters of every weapon, every ploy, and every strategy, fierce in the attack and solid in the defence. They shall go where others fear to tread, and return victorious, that we all might live but one more day."


— Extract from the Apocrypha of Eons, Verse I, Chapter III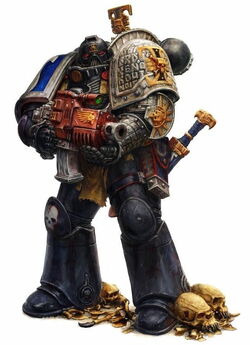 A Deathwatch Tactical Marine represents the most common specialty held by the Space Marine warriors within the ranks of the Deathwatch. Tactical Marines are equipped and trained to fulfill the widest range of battlefield roles for the Astartes. Armed with the iconic Bolter, Tactical Marines provide the bulk of a Deathwatch Kill-team's firepower, which they are able to lay down in a devastating fusillade even as they advance implacably towards their objective.
Most Battle-Brothers taking up service in the Deathwatch have advanced to the position of Tactical Marine in their parent Chapters, and so are veteran warriors well versed in the many disciplines of war. There are very few enemies that the Tactical Marine has not encountered and defeated, and no battlefield holds any terror for him.
Role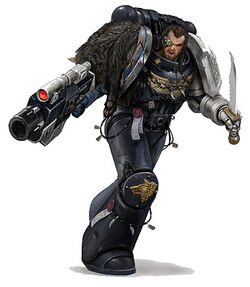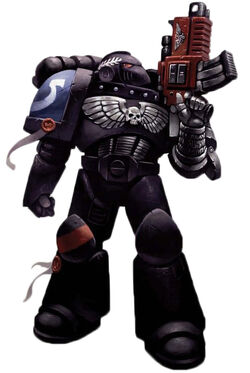 The primary task of a Kill-team's Tactical Marines is to engage the bulk of the foe, and to bring about the achievement of its objectives. Any specialists in the team, such as Devastator Marines and Assault Marines, are present mainly to support the Tactical Marines in their task. To this end, the Tactical Marines are masters of a wide range of combat tactics, and they are adept in the use of a variety of weapons and other wargear.
The most commonly fielded weapon amongst the Deathwatch Tactical Marines is the Bolter, but this is not the standard issue weapon of that type carried by other Chapters. Almost every Bolter in the arsenal of the Deathwatch has been master-crafted to the very highest possible standard, and maintained according to the strictest regimens. They are invariably fitted with a device called a Shot Selector, which allows the brother to quickly chamber one of the many specialised types of Bolter ammunition that the Deathwatch utilises, and engage any foe that may present itself.
It is the use of this specialised ammunition that makes the Deathwatch Tactical Marine such a fearsome and highly flexible warrior. Hellfire Rounds, for example, have been introduced following the lessons learned in costly battles against Hive Fleet Behemoth, each containing a small payload of mutagenic acid that is devastating to organic matter. Dragonfire Rounds explode on contact with their foe, erupting in a burst of incandescent chemical fire that soon engulfs the target. Kraken Rounds contain a super-dense core that affords them improved range and penetration compared to a conventional round, making them ideal against heavily armoured targets.
Metal Storm Rounds are examples of highly sophisticated and barely understood technology, each containing a miniscule proximity detector that triggers the round's detonation microseconds before impact, lacerating the foe with thousands of razor-sharp fragments that causes him to bleed out in seconds. Stalker Bolts are optimised for range and stealth, allowing a Tactical Marine to use his Bolter as a makeshift sniper rifle, increasing his flexibility and lethality still further.
This huge range of ammunition types means that the Deathwatch Tactical Marine can face a wide range of foes, and the Shot Selector allows him to switch, even in the heat of battle, from one to the next. Some Tactical Marines, however, choose to specialise instead of taking this all-round approach. It is not uncommon for one of a Kill-team's Tactical Marines to carry a special weapon, such as a Flamer or Meltagun into combat. Such weapons do not have the broad utility of a Bolter fitted with a Shot Selector and utilising the specialised ammunition of the Deathwatch.
Instead they excel at one particular tactical task, such as engaging multiple foes in the case of the Flamer, or attacking heavily armoured enemies, or fortified positions, with the Meltagun. Because he has already served as a Scout, Devastator, and Assault Marine in his parent Chapter, a Tactical Marine is able to take over the duties of a fallen brother should the mission demand. Even if he is not as well practised in a specialist weapon, such as a Multi-Melta, a Tactical Marine can take over the operation of such a weapon should the Devastator carrying it fall in action. Such flexibility and wide range of skills and experience makes the Deathwatch Tactical Marine the core of the Kill-team, and the equal of almost any foe he may encounter.
Wargear
Optional Deathwatch Tactical Marine Wargear
Notable Deathwatch Tactical Marines
Sources
Community content is available under
CC-BY-SA
unless otherwise noted.