"Honour the fallen; speak their Rites of Passage with pride. Give respect unto the battle gear of the dead. Praise the bravery of the living with a loud, clear voice. Above all else, honour the Emperor and the Primarchs for their hand in our victory. I undertake to do this at battles' end with reverence despite exhaustion and many wounds. It is my burden and my satisfaction to do so."

— Deathwatch Chaplain Antieus at the Fallow Cross Massacre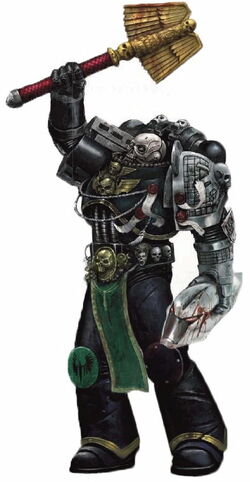 A Deathwatch Chaplain is the spiritual leader of the Deathwatch who ministers to the spiritual well-being of their brother Space Marines in that Chamber Militant of the Ordo Xenos. They are consummate warriors who lead from the front as awe-inspiring warrior-priests, engaging where the fight is fiercest and praising the Emperor through the destruction of His enemies. These individuals are the wisest and fiercest members of the Deathwatch, mighty heroes who have demonstrated their own enduring devotion and uncompromising zeal on countless occasions.
Not only are Deathwatch Chaplains fierce combatants, they are also dedicated scholars of the various traditions, histories and beliefs of a thousand different Space Marine Chapters. For it is their duty to minister to Battle-Brothers of other Chapters in the Deathwatch, many which have long-standing rivalries and past antagonisms.
Exposed to the constant terrors and threat of the xenos, a Deathwatch Chaplain must always stand ready to renew a Battle-Brother's devotion when he falters, and to remind him of his duty and his vows when hope seems lost.
Role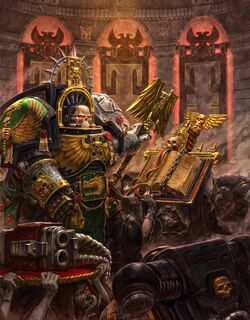 Deathwatch Chaplains act in a similar role to the Chaplains of the Adeptus Astartes Chapters by serving as the spiritual leaders of Battle-Brothers undertaking their Vigil with the Deathwatch. However, the challenges facing a Deathwatch Chaplain are unique. The rigours of serving in the Deathwatch can be sorely vexing for Space Marines accustomed to the rigidly ordered life of their own Chapters. Long periods of isolation and privation await them, only punctuated by chaotic, often-desperate combat against wildly diverse enemies. The need to work alongside Battle-Brothers of other Chapters in the Deathwatch can be challenging in itself, particularly amongst those from Chapters with long-running rivalries and past antagonisms. Most of all, Battle-Brothers in the Deathwatch are exposed to horrible truths about the true threat of the xenos lurking just beyond the circle of the Emperor's light. They will witness sights that can shake their faith to its very foundations and yet are often asked only to watch and report back on what they have seen.
This corrosive poison of seeming impotence and frustration can drive Space Marines to insane acts of self-sacrifice in a hopeless effort to overcome star-spanning evils. A Deathwatch Chaplain must always stand ready to renew a Battle-Brother's devotion when he falters, and to remind him of his duty and his vows when hope seems lost. On the most difficult missions a Deathwatch Chaplain will lead his Battle-Brothers personally to ensure that their fervour is directed towards victory even if it comes at the cost of the sacrifice of the entire Kill-team. The fierce dedication of a Chaplain to his own Chapter usually makes them unsuitable to become Deathwatch Chaplains, although examples of such broad-minded individuals do exist. More typically, Battle-Brothers find their calling through apprenticeship to an existing Deathwatch Chaplain who has noted their unflagging zeal in pursuit of the alien. Once a Deathwatch Chaplain takes his vows he will seldom see his old Chapter again, instead giving himself entirely to the Long Vigil and the duties of the Deathwatch.
A Deathwatch Chaplain must study extensively during his training. He must known the beliefs and values of a thousand different Chapters and their sometimes contradictory legends of the Primarchs by heart. A Deathwatch Chaplain must become a dedicated scholar of the Primarchs and of Chapter histories originating at the very dawn of the Imperium. Thus, when a Deathwatch Battle-Brother stands at the brink of despair or impotent rage, the Chaplain will know the right liturgies and catechisms to speak, and which Chapter heroes or legendary battles of the past to cite that will inspire the warriors of the present. Deathwatch Chaplains also make it their business to know of every potential motivation, conflict and agenda amongst their Battle-Brothers before battle is joined. Many Battle-Brothers are amazed by the knowledge of Deathwatch Chaplains, and in some cases that knowledge extends even unto the deepest mysteries known only to the inner circle of Chapter hierarchies. A Deathwatch Chaplain takes no sides and makes no judgments about individual Chapters and their long study grants them a perspective denied to most. Deathwatch Chaplain doctrines hold that all Space Marines are united in their service to the Emperor and those bound by their vows to the Deathwatch must be united more than most.
Wargear
Some Chapters allow their Chaplains to carry a variety of close combat and heavy weaponry as well as grenades.
Notable Deathwatch Chaplains
"He is a straight, bright sword against the darkness. Duty and obedience are his only vices; no hubris, no ego, only a tireless drive and heartfelt devotion toward the duties of the Long Vigil and the ruin of the xenos."

— Watch Commander Mordigael on Titus Strome
Sources
Codex: Deathwatch (7th Edition), pg. 22
Deathwatch: Honour the Chapter (RPG), pg. 59
Deathwatch: Rites of Battle (RPG), pp. 106-109, 142-143, 235
Deathwatch: The Emperor's Chosen (RPG), pg. 39
Deathwatch: The Jericho Reach (RPG), pp. 78-79
Community content is available under
CC-BY-SA
unless otherwise noted.